Tour highlights
Jaguars – five days (10 safari boat trips) in the best jaguar land in the world, to get the best opportunities to photograph these very attractive cats
Accommodation on a floating hotel in the middle of jaguar land, in order to avoid long transfers
Other exciting wildlife such as Giant Otter, Tapir, Coati, Capybara,Swamp deer and thousands of Caiman
Amazingly rich bird life, which includes the World's largest stork – the Jabiru, the World's largest parrot – the Hyacinth Macaw, colorful Toucans, Herons and exciting birds of prey
Night safaris to look for nocturnal wildlife
One photographer per seat row on boat safaris
The tour leaders show their favorite sites and also provide photographic advice, in a small like-minded group
We support the organisation Panthera's work with creating a corridor for Jaguars through South and Central America
PANTANAL
Pantanal is one of the World's most biodiverse areas. It is often called the World's largest wetland, spreading across hundreds of thousands of square kilometers in Brazil, eastern Bolivia and eastern Paraguay. Thanks to the high concentration of wildlife, high biodiversity and a number of varied habitats, Pantanal is really one of the natural wonders of the World. It hosts everything from Jaguars, Piranhas, Anacondas and Capybaras to Giant Otters, Caymans, Swamp deer and an amazing variety of birds. Pantanal is mainly open temporary wetland/savanna, with sparse gallery forests along the rivers and in higher parts. For several months, the Pantanal is almost completely flooded under meters of water. The rest of the year it is a lake-rich, dry savannah.
Wildlife is ever-present in Pantanal, with 405 species of fish, 600 bird species, 80 mammal species, 1100 butterflies and 50 reptile species. Threatened and endangered species such as Jaguars, Pumas, Giant Otters, Maned Wolf, Ocelot, Macaws, Tapirs and Giant Ant-eaters have all found a haven in the impenetrable wetlands.
WILDLIFE AND BIRDS
Whilst staying at lodges and traveling along the Transpantaneira road through the wilderness, we will be searching for interesting subjects to photograph. On the savannah we will be looking for mammals such as Capybaras, Tapirs and Coatis. Large numbers of Herons, Darters, Kingfishers and Jabirus gather in the wetlands. There we will also find thousands of Caymans. Lodge gardens and surroundings provide a plethora of photo opportunities. Here we find less shy species of birds and mammals. Rivers form the veins of the Pantanal, and there is lots to see and discover. On boat rides along the river Pixaim we will also be able to photograph fishing birds of prey and Kingfishers. Weather-permitting we will visit a lodge where the endangered Hyacinth Macaws are abundant. Rivers also give us many chances to come across Jaguars. They are normally pretty shy, but here they tend to come down to the rivers during the dry season to drink, hunt and rest, which usually gives us good chances to see and photograph these great animals. In order to make the best of our opportunities we will be staying on a floating hotel right in the middle of the Jaguar's core area. During these five days we will make 10 boat safaris in search of Jaguars and other interesting subjects such as Giant otter, Tapir, Capybara and lots of birds to photograph. On each boat trip there will be only one photographer per seat row, to get the best possible photo opportunities.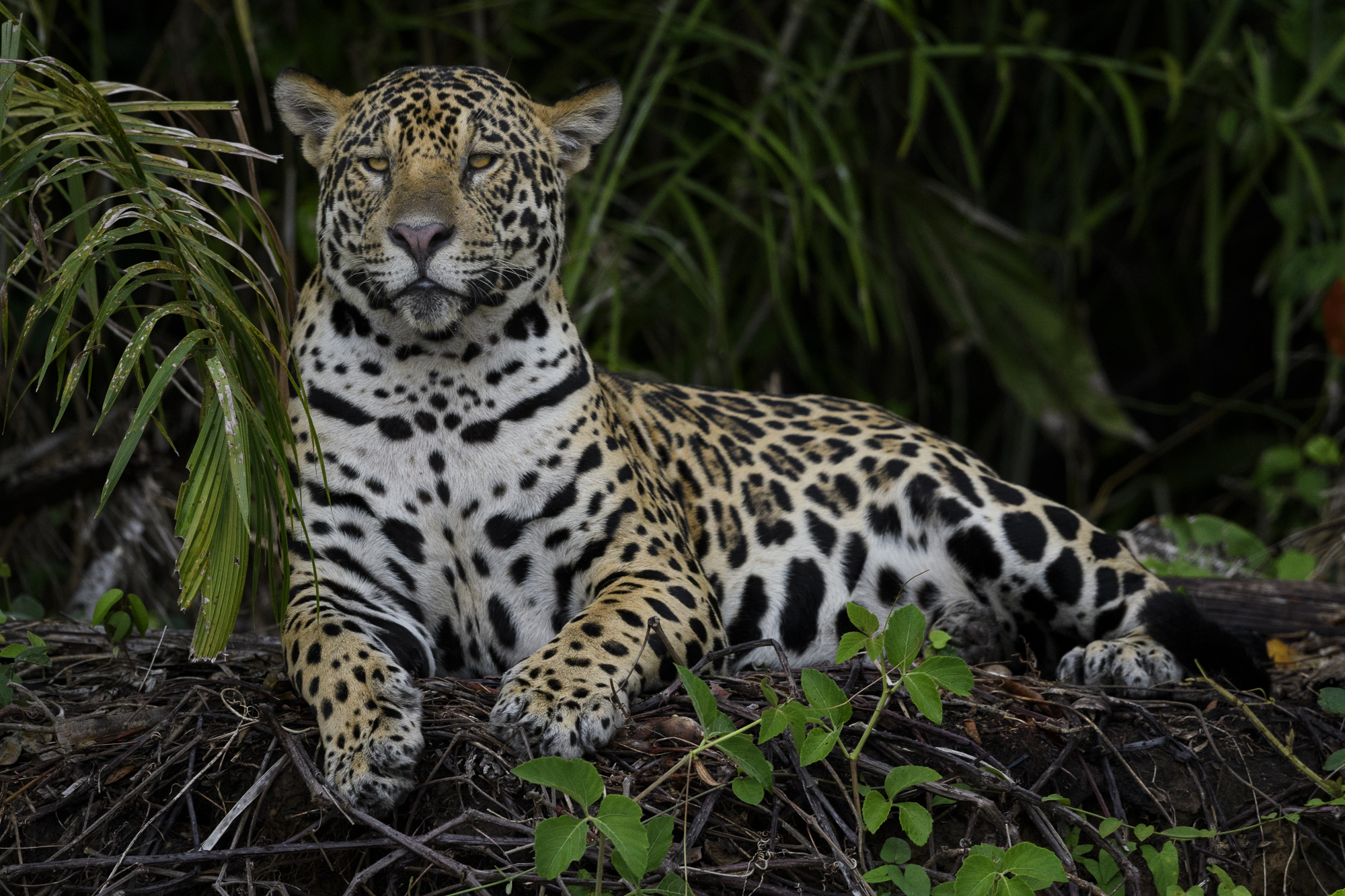 Itinerary
Travel day (16/9)
Flight to Brazil
Day 1 (17/9) (Lunch – Diner)
Arrive at Cuiabá in the morning. Transport to our lodge, a fazenda. Lunch enroute. During the afternoon/evening we head out on safari in search for the spectacular wildlife of Pantanal.
Day 2 (18/9) (Breakfast – Lunch – Dinner)
The whole day is spent around our lodge, with the first safari starting at dawn. During the afternoon/evening we continue out on safari in search for the spectacular wildlife of Pantanal. Even when not on safari, there is plenty to photograph around the lodge.
Day 3 (19/9) (Breakfast – Lunch – Dinner)
We leave the lodge in the morning and head for Porto Jofre. The journey from our lodge to Porto Jofre is also a safari, with many photo opportunities along the way. From Porto Jofre we head out on to the river Cuiabá and our floating hotel. Here, in the core area for Jaguars, we will spend five nights. Already in the afternoon we will head out on the river in our search for jaguars and all other exciting wildlife along the riverbanks.
Day 4-7 (20-23/9) (Breakfast – Lunch – Dinner)
These four days are spent on the river Cuiabá. Our main focus is of course the Jaguars. During mornings and afternoons we will search for them along the river banks. We will also be photographing Giant Otters, Caymans, birds and other animals. We will have a short break for lunch and a short rest. In the evenings, after dark, there will be lectures and workshops.
Day 8 (24/9) (Breakfast – Lunch – Dinner)
In the morning we have our final boat safari to search for jaguars and other exciting wildlife and birds that we wish to photograph more. Around lunchtime we leave the Cuiabá river and start our journey along the Transpantaneria road to our next lodge. In the afternoon we have a new boat safari on the Pixaim river. We will keep our eyes open and hope for Kingfishers and birds of prey as well as the fabulous Agami heron.
Day 9 (25/9) (Breakfast – Lunch)
In the morning we have a final boat safari on the Pixaim river, to look for wildlife subjects to photograph. After lunch we head back to Cuiaba. For those who are not joining our extension trip, the journey home begins here.