GIFT VOUCHERS
Give away a world-class photo adventure!
A gift for someone who ¨already has everything¨?
Then we suggest a gift voucher for a world-class photography adventure with Wild Nature Photo Adventures.
You can choose the value of the gift voucher yourself.
This is how you purchase a gift voucher:
Select one of the themes for your voucher from the menu below.
Type the amount that you would like to purchase a gift voucher for.
Type the name of the person who will be given the gift voucher (the recipient).
State whether the voucher should be sent to the recipient or to you as the customer.
Fill in the e-mail address of the recipient.
State whether the gift voucher is to be sent on any particular date.
Fill in your customer information and payment method.
When the order is sent, a confirmation e-mail will be sent to the customer, shortly followed by instructions for payment. The gift voucher will then be delivered as a high-resolution A4 PDF as soon as we receive payment. Gift vouchers are valid for 3 years from the date of purchase.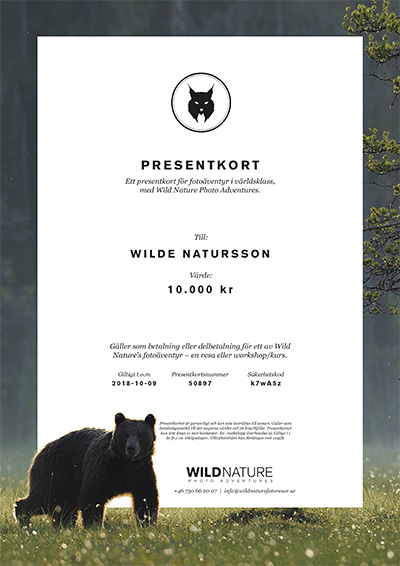 Gift voucher – Brown bear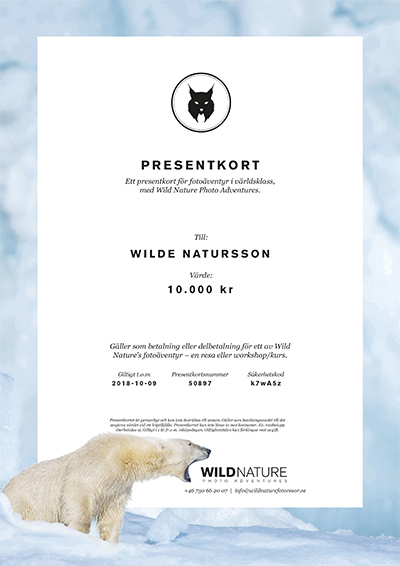 Gift voucher – Polar bear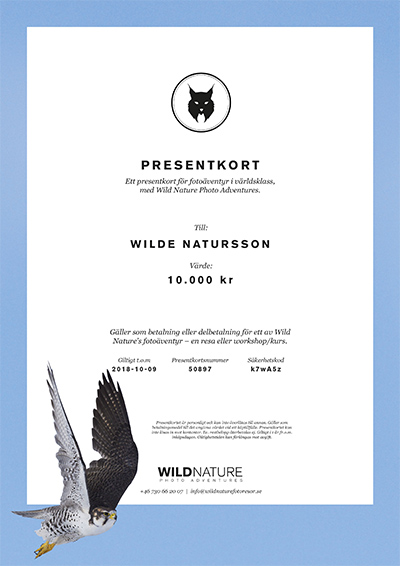 Gift voucher – Saker Falcon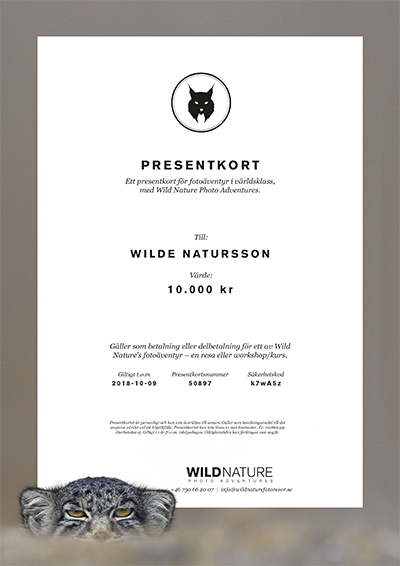 Gift voucher – Pallas´s Cat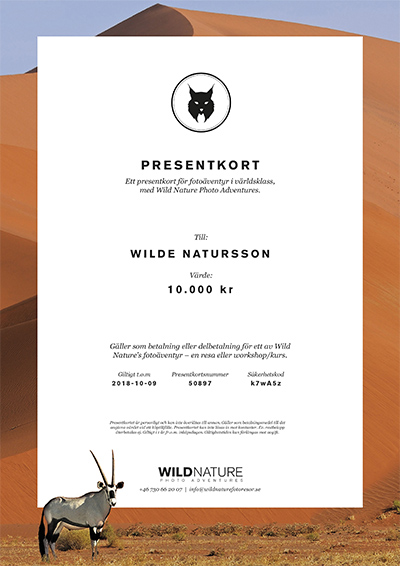 Gift vouchers are personal and cannot be transferred to anyone other than the recipient. They are valid as payment equivalent to the value stated on the voucher. Gift vouchers are valid for 3 years from the date of purchase. Gift vouchers cannot be exchanged for cash. When booking a tour or workshop with the voucher, provide the voucher number and security code in the discount field.