Some highlights
 6 days in the Okavango Delta on a "private concession", we stay in our "private" camp. Being in a "private concession" gives us opportunities to drive off-road and also photograph on foot
2 days on the Chobe river where we shoot from specially adapted photo boats
Africa in the green season, a completely different experience than in the dry season
Great chances to meet and photograph lion, leopard and wild dog in the Okavango Delta
Close encounters with elephants, hippos, buffalo and crocodiles along the Chobe River
Unique antelope species in theOkavango Delta such as sitatunga, tsessebe and lechwe
Great chances to photograph SIX species of kingfishers
Night safaris in the Okavango Delta to look for nocturnal animals
On boat safaris on the Chobe River, we are only 1 photographer per row of seats
Dramatic skies add an extra dimension to your photos
Opportunities to fly a helicopter and photograph the Okavango Delta from above (not included in the price of the tour)
Charter flights out to our camp in the Okavango Delta give us more luggage options
We have the camp in the Okavango Delta all to ourselves
The tour guide shows you his best spots and you get your own photographic advice and tips in a small group of like-minded people
The sun is slowly starting to color the clouds in the sky faintly pink and dusk is getting closer and closer. The wetland in front of us is mirror-like and foraging birds are reflected in the water. Around the grasslands, zebras, wildebeest and large herds of lechwe antelope graze. Suddenly it sways in the grass and calm is replaced by a moment of anxiety and rapid rushes among the grazing animals. The herds of lechwe take refuge in the wetland where they feel safe from the predators. Slowly a group of lions emerge from the green grass, this time the hunt failed but they don't give up so easily…
THE OKAVANGO DELTA
The Okavango Delta is a large and varied ecosystem that forms where the Okavango River flows into the Kalahari Desert in Botswana. The Okavango Delta is a unique wetland that covers between 6,000 to 15,000 square kilometers of the Kalahari Desert in northern Botswana. The delta is created by seasonal floods that occur due to rainfall during January and February in the highlands of Angola. The water then slowly flows down towards Botswana and the floods in the delta reach their peak during June to August. The delta is generally flat, with an elevation variation of less than two meters making the area predominantly composed of many small islands.
An oasis in an otherwise arid environment, the delta is known for its amazing wildlife, with large populations of mammals and amazing bird life. During our trip, we will spend our time in the delta on a private concession, which means the area is not open to the public. We will stay in a camp in the middle of the "wilderness", we will have the whole camp to ourselves. For our photography, this is a big advantage, within the concession we have the opportunity to drive off-road so we can both find subjects and angles that will be the best for our pictures. We also have opportunities to get out of the vehicles and photograph on foot, this is of course regulated and not possible when it e.g. are predators or buffalo nearby. As there are also no "opening or closing times" we can be out extra early and late during the day and we will have night safaris to look for nocturnal animals. There is only "our" lodge and one other on the concession, however these are at opposite ends of the area, so there are very few jeeps in the area. We will never experience any congestion. The guides at the lodges cooperate and have radio contact with each other, so in that way our chances of finding e.g. leopard.
The area has a very rich animal life with several lion families, at the time of writing there are two packs of wild dogs in the area (NOTE: the wild dogs move over very large areas and are not always seen), leopards are common (albeit almost everywhere a bit sneaky to see). There are also plenty of grazing animals here and we see large herds of lechwe antelope grazing around the wetlands, impala, wildebeest, tsessebe and zebra are common. The magnificent kudu is also here but not so abundantly. In the delta there are also sitatunga, roan and sable antelopes, but they are rarer this year.
During our days in the Okavango Delta, we will have the opportunity to fly by helicopter and photograph the delta from above. It is a fantastic experience to see the delta and the animals from above. During the flight, the helicopter's doors are removed so that you don't have to photograph through a window. The pilot is very used to flying photographers so they know what we want.
You can choose whether you want to fly 30 min, 40 min or 1 hour. There are only 2 people in the helicopter. Helicopter ride is not included in the price of the trip but can be booked through us when booking the trip. Contact us first regarding prices and terms.
CHOBE RIVER
The stunning and life-giving Chobe River forms the northern boundary of Chobe National Park. The river begins as a small mountain spring in Angola, where it is known as Kwando. From there it flows through the sands of the Kalahari before reaching Botswana and finally becoming the Chobe. The river then continues along Botswana's northern border before meeting the mighty Zambezi River and flowing over the precipice of Victoria Falls. By the time the river reaches the northern boundary of the national park, it has become a wide, meandering body of water that meanders through marshland and is interspersed with a number of lush, green islands. This part of the river attracts an almost incredible density of game, elephants, buffaloes and countless hippos and crocodiles. The birdlife is also extraordinary throughout the year.
We will spend two days on the Chobe River, where we will travel by specially adapted photo boat. During all boat trips on the trip, we are only one photographer per row of seats to get the best photo opportunities possible. At the time of our trip, the river offers a fantastic bird picture with lots of different species, with perhaps the six species of kingfishers, which are regular along the river this time of year, being the icing on the cake. But in addition to these jewels, there are plenty of jacanas, snake-necked birds, various waders, African ospreys and then the small, wonderfully beautiful African pygmy duck.
Of course, we will also photograph mammals along the river and here the elephants are the main attraction. They often come down to the river, especially in the afternoon, to drink, graze or bathe. There are also plenty of hippos and buffalo here, and with a bit of luck lechwe and puku antelopes also appear. Of course, we also want to photograph the large crocodiles and it is not uncommon for us to get as close as just a few metres.
During the trip, we will have different photographic workshops where we will, among other things, go through different techniques to prepare for different types of photography that will come during the trip. We also look at image composition and each other's images, all to develop your particular photography. We will also have access to editing rooms.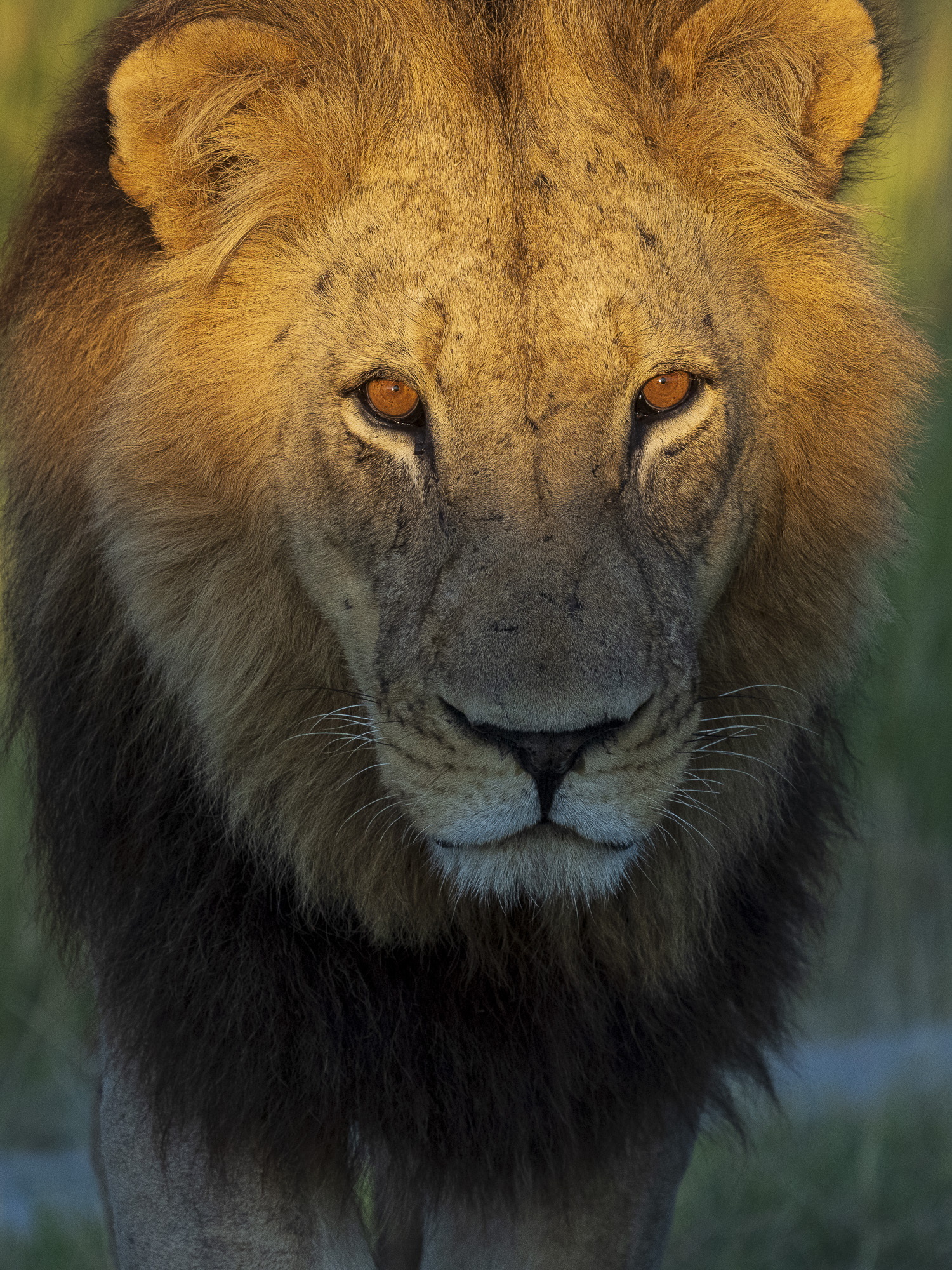 Itinerary
Day 1 (25/2) (Lunch – Afternoon tea – Dinner)
Arrival in Maun no later than early morning. Flights from Maun to Okavango will depart around lunchtime. Transport to our lodge. In the afternoon we set out on the first game drive in the delta.
Day 2 – 5 (26 – 29/2) (Light breakfast – Brunch – Afternoon tea – Dinner)
During these four days, we spend as much time as possible out in the delta looking for subjects and photographing. The area is very rich in animals with lions and wild dogs. Leopards are also common but, as so often, they are the most difficult of the big cats to see and photograph. There are also a lot of antelopes and other grazing animals here. Elephants are also commonly seen. During our time in the Okavango we will also do night game drives to look for nocturnal animals. If you wish, it will also be possible to fly by helicopter over the delta to photograph from the air (not included in the price of the tour).
Day 6 (1/3) (Light breakfast – Brunch – Afternoon tea – Dinner)
We have one last game drive in the morning before it is time for us to leave the delta and fly to Kasane. We check in at our lodge and in the afternoon we are out on the Chobe river by boat. Back at the lodge around 19:00.
Day 7 (2/3) (Light breakfast – Brunch – Afternoon tea – Dinner)
After a light breakfast early in the morning, we head out again on the Chobe river and look for exciting motifs. Back at the lodge around 10.30 for brunch, rest and photo editing. Around 3.30 pm we have "high tea" and then back out on the river. Back at the lodge around 19:00.
Day 8 (3/3) (Light breakfast – Brunch)
We have one last boat trip on the Chobe River in the morning before it's time for us to start the journey home again. After brunch we go to Kasane airport and leave Botswana for this time.
Mer information
PHOTO EQUIPMENT
As we will be photographing many different types of subjects, everything from landscapes with and without animals to portraits of mammals and birds, it is advisable to bring everything from wide-angle lenses to telephoto lenses. On jeep safaris, lenses such as a zoom 80/100-400mm or 500mm are excellent. A 70-200 mm zoom should be supplemented with a longer focal length or 2x teleconverter. To increase the focal length, teleconverters should be used in certain situations. A crop-format body ostensibly turns 400mm into 600 or 640mm. With a full-frame body, you should have a 1.4x converter with you if the longest lens has a focal length of 400 mm. If you have access to two camera bodies, it is good to have both and have slightly different focal lengths on the bodies. This is to avoid having to change lenses if there is a lot of dust. Tripods are difficult to use in the jeeps, but can be useful when shooting on foot. Tripods can also be good if the opportunity arises for night photography. In jeeps and boats, bean bags are good to have. In the boats on the Chobe river, there are also gimbal heads mounted on each row of seats.

CLOTHING
The temperature in northern Botswana is pleasantly warm and pleasant this time of year. During the day, shorts and a t-shirt apply, alternatively thin long trousers. However, it is good to bring a fleece sweater and long trousers as mornings and evenings can be a little cool when traveling in the jeep. A thinner rain jacket or poncho is good to have with you. Bring a cap or beanie as protection from the sun. A pair of thicker trainers and sandals are the best choice for the feet.

ACCOMMODATION
When we are on the Chobe River we stay at a very comfortable lodge. Out in the Okavango Delta, we live in a small tent camp located by one of the delta's main channels. We will have the camp all to ourselves and underwent a renovation in 2022-2023 so everything is very fresh. As the camp "only" has five tents, single room options are very limited. Contact us for more information.

ACCESSIBILITY
The accommodation has no restrictions in terms of accessibility. The safari vehicles we use may mean a slightly reduced accessibility in case of reduced mobility.
INCLUDED IN THE PRICE
Accommodation (share in double room), drinks and meals as per program, all drinks during our stay at the lodge in Kasane and tented camp in Okavango (also including alcohol), all entrances and fees in national parks, all safaris, local guides, photography lessons, local transport (minibus, jeep, boat), charter flight Maun – Okavango Delta – Kasane, transfer to and from Kasane airport.

NOT INCLUDED IN THE PRICE
Flights to Maun and from Kasane alt. Victoria Falls, transfer Victoria Falls – Kasane. visa, tip, insurance, vaccinations, possible medical tests, cancellation protection, drinks and meals that are not specified in the itinerary, telephone, internet fees and things of a personal nature.

MEETING POINT
The tour starts at Maun Airport, exact time will be announced later. The trip ends at Kasane Airport. It is also possible to fly home from Victoria Falls if you wish. Transfers from Victoria Falls are not included in the price of the tour. Contact us for more information.

TERMS OF PAYMENT
The registration fee is paid via invoice in connection with registration. The remaining amount is paid no later than 60 days before the tour.

PASSPORT AND VISA
Your passport must be valid for at least six months after returning home from Botswana. For Swedish citizens, a visa to Botswana is not required for stays under 90 days. If you're not a Swedish citizen please check what applies to you. When checking in for flights, a passport is required.

INSURANCE
Contact your insurance company about travel insurance and cancellation insurance. We always recommend travel insurance that covers medical transports both at the destination and for transport home.

HEALTH AND VACCINATIONS
Contact your doctor for advice on vaccinations. Also check any requirements for medical tests for entry into the country.

THE GROUP AND LANGUAGE
Our tours are open to all nationalities, which means that the group can be international.
The tour guides on our trips speak Swedish and English.
Photographic leader
Henrik Karlsson, born in 1968, is a photographer, writer and conservation biologist.
Henrik is a trained biologist and used to work with water and conservation issues.
He is an ambassador for OM SYSTEM and has been appointed as a National Geographic Explorer and is a member of the Swedish Nature Photographers Association (Naturfotograferna/N) as well as PhotoNatura. In 2003 he was awarded Naturfotografernas/N and Kodak's scholarship. Henrik has also won awards in several European photo competitions.
Henrik has a wide selection when it comes to subjects to take images of and tell stories about. He will be more than happy to photograph everything from insects to the orchids in the forest or the great wild animals around the world. He has the whole world as his photographic field but is more and more drawn to Africas beauty and wildness.
Previously, Henrik worked as a guide in several Swedish Nature Reserves and National Parks. He is a frequent lecturer and an appreciated guide on photo courses and workshops. He also leads photo tours all over the world.
In 2011 Henrik self-published the book "Mångfaldens ö – bilder och tankar från Ölands natur", and the book "Vilda Norden" was published in 2017. 2020 he published the book Ölands orkidéer and in 2021 Orkidéer på Gotland.
www.hknaturfoto.se