EXTEND YOUR TOUR WITH – TIGER, TIGER & TIGER IN TADOBA NATIONAL PARK 15th-20th APRIL 2024.
READ MORE HERE…
Some highlights
Great chances of encountering tiger and leopard in Nagarhole National Park
Close encounters with Asian elephants, Indian bison, deer and with a little luck even the Indian wild dog Dhole
Big numbers of endemic birds such as malabar barbet, nilgiri flycatcher, ghats hornbill and nilgiri thrush
Amazing birds like Indian Pitta, Sri Lanka frogmouth
Close encounters with lion-tailed macaques, one of the world's most endangered monkeys
In addition to the lion-tailed macaques, we have great chances to photograph many other species of monkeys. Southwest langur, Tufted gray langur and nilgiri langur
Night excursion to look for amphibians and reptiles
Endemic mammals such as Indian giant squirrel, nilgiritahr
Boat safari on Kabini river
The tour guide shows you his best spots and you get your own photographic advice and tips in a small group of like-minded people
ENDEMIC SPECIES IN SOUTH INDIA
India's nature is not as well-known as Africa's, but there is an equally exciting animal life here. India is an absolute must for those interested in nature, and for the nature photographer it offers fantastic opportunities for pictures of animals and birds. Here in the world's largest democracy, we can come across several species of deer and antelope, lots of fantastic birds and the world's largest cat, the tiger. India is also a country with a large number of endemic species. Here there are many species of birds and mammals that we do not find anywhere else in the world. Southern India in particular is an area with many endemics, and here we can meet, for example, the Indian giant squirrel, nilgiri thar, nilgiri macaque, lion-tailed macaque, Malabar barbet, nilgiri flycatcher and Malabar gray hornbill.
NAGARHOLE NATIONAL PARK
In addition to these endemic species, large parts of India's "regular" wildlife are found here, both in terms of birds and mammals. On our trip, we have great chances to see and photograph both tiger and leopard in the Nagarhole National Park. At the time of year we made the trip, there are also a large number of Asian elephants in Nagarhole. It is the Kabini River that attracts the large animals at the end of the dry season. Nagarhole National Park also has large populations of Indian bison, or gaur as it is actually called; axis deer and sambar deer are regularly seen. With a bit of luck, our paths cross with those of the Indian wild dog. Dhole, as it is also called, is highly threatened today, partly because their habitats are disappearing, partly because they suffer from diseases transmitted from wild domestic dogs.
THATTEKAD BIRD SANCTUARY
Our tour begins in the Thattekad bird sanctuary, here are some of all the fantastic birds that we want to experience. We will hike in the reserve, and among other things we will look for the very strange bird Sri Lanka frogmouth. On our hikes in the reserve, we will also come across other birds, and here you have good opportunities to work with images of birds in their environment. In the reserve there is also a population of the endemic Indian giant squirrel. During the days in Thattekad, we will also be photographing from the hides, and here we hope for colorful species such as Indian pitta, Malabar barbet, Malabar gray hornbill and many many more.
ERAVIKLUM NATIONAL PARK
After our days in Thattekad, we slowly head north, and our next stop will be Eraviklum National Park. Here lives the endemic Nilgirithar, a goat that can be compared to an ibex but belongs to its own genus called Hemitragus, which also includes the Himalayan and Arabian Thar. Today, there are only about 2,500 individuals left of this animal, and a thousand of these live in Eraviklum.
CLOSE ENCOUNTERS WITH MONKEYS
The next stop on our trip is Valpari, definitely one of the highlights of the trip. One of the world's most endangered primates lives here, the lion-tailed macaque. Today, about three thousand individuals remain in southern India, and the village of Valpari is the best place to experience them. Often they come down to the village to stock up on fruit and other edibles. With a little patience, we will have a wonderful experience together with these monkeys. The area is also home to the nilgiri langur, also endemic to India. It is much shyer than the lion-tailed macaques, but with a bit of luck we might be able to get some good pictures of them too.
KABINI
From Valpari we take winding roads over the Western Ghats mountain range again, and via the town of Ooty we reach the Nagarhol National Park and the area better known as Kabini. We spend three days doing jeep and boat safaris in the national park and looking for the animals of the area. Tiger and leopard are obviously high on our list, and our chances of meeting these animals are good but we have to be patient. In the search for these cats, we will meet the Asian elephant, Indian bison, axis and sambar deer and maybe also Dhole, the wild dog. Bird life is rich in the area, and we are offered many great photo opportunities.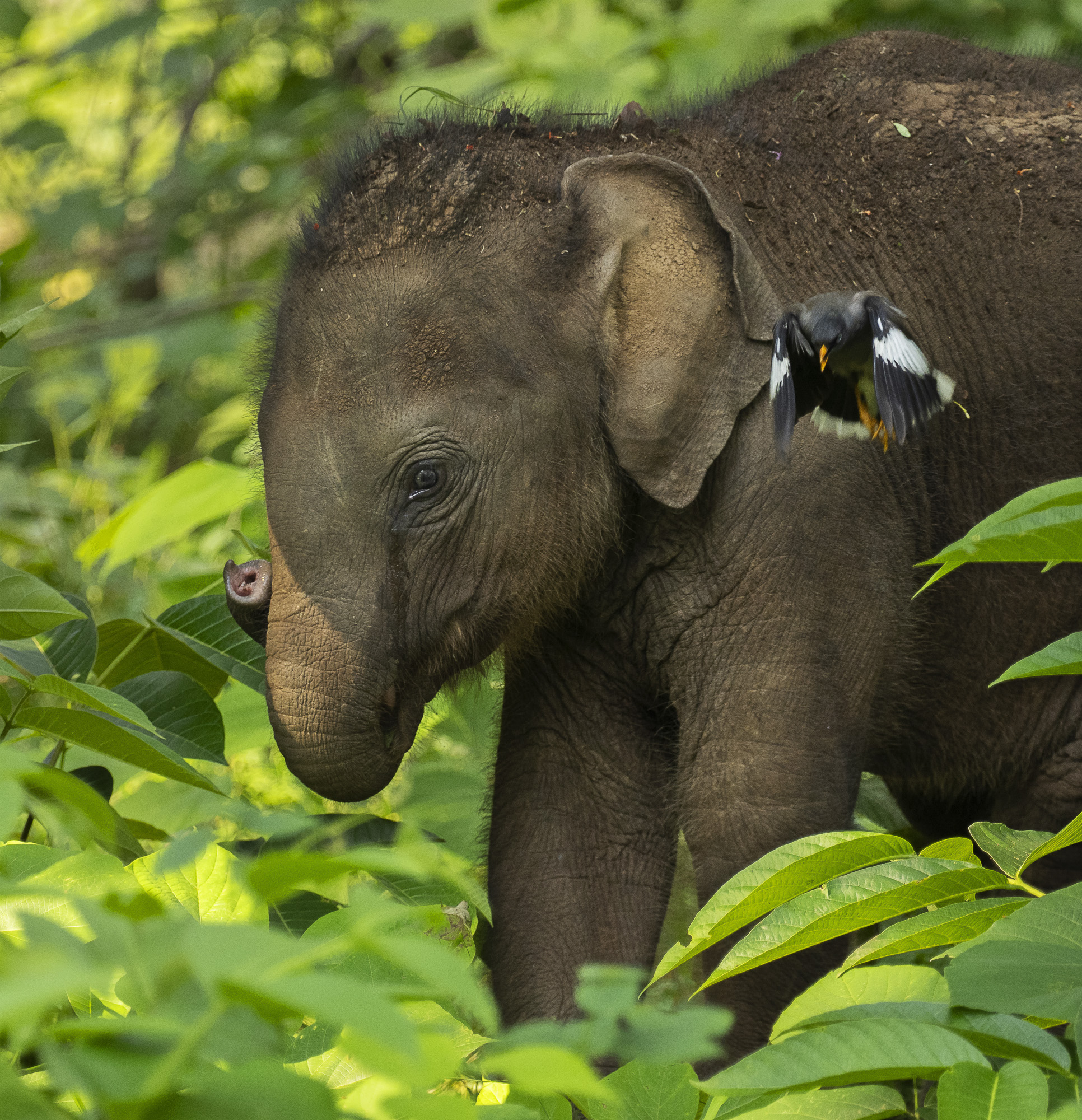 Itinerary
Day 1 (6/4) (Lunch – Dinner)
Arrival in Cochin in the morning. Transport to our lodge in Thattekad. Lunch on the way to the lodge. In the afternoon we head out to the bird sanctuary to look for Thattekad's amazing birdlife.
Day 2 (7/4) (Breakfast – Lunch – Dinner)
During our days in Thattekad, we will alternately hike in the reserve and look for birds and other exciting things to photograph by sitting in hides at feeding stations. The feeders attract many of the area's endemic species.
Day 3 (8/4) (Breakfast – Lunch – Dinner)
In the morning we have our last session in Thattekad and then head towards Eraviklum National Park. During the afternoon we look for Nilgiri thar and other exciting things. In the evening we look for amphibians and reptiles.
Day 4 (9/4) (Breakfast – Lunch – Dinner)
Today we have an early start to go towards Valparai. Once there, we spend the afternoon looking for and photographing the lion-tailed macaques and many other exciting things
Day 5 (10/4) (Breakfast – Lunch/Packed Lunch – Dinner)
Today we are all day in the area around Valparai, looking above all for the lion-tailed macaques and many other exciting things. Niligirilangur, Indian giant squirrel and a large number of species of birds are found here. In the tea plantations that surround the village, there are animals, landscapes, structures and people to photograph.
Day 6 (11/4) (Breakfast – Lunch – Dinner)
We dedicate the morning to the lion-tailed mates or if we are satisfied from yesterday, there is much else to photograph. During the day we then travel on towards the city of Ooty where we spend the night.
Day 7 (12/4) (Breakfast – Lunch – Dinner)
Today we move on to the Nagarhole National Park and the Kabini area during the morning. After lunch it's time for our first safari here.
Day 8 – 9 (13 – 14/4) (Breakfast – Lunch – Dinner)
These days we drive safaris in Nagarhole in the mornings and afternoons by both jeep and boat. We look for everything from tiger, leopard, elephant, Indian bison, deer to wild dogs and birds.
Day 10 (15/4) (Breakfast)
Today our journey ends, and we head to the airport in Bangalore. For those of you who have chosen to come along on the extension trip to Tadoba, a flight to Nagpur awaits, while the others fly home to Scandinavia.
More information
PHOTO EQUIPMENT
As we will have opportunities for many different types of subjects, everything from landscapes to reptiles, mammals and birds, it is advisable to bring everything from wide-angle lenses to telephoto lenses. Even a macro lens can be very useful. On safari, whether by jeep, boat or on foot, lenses from 70-200mm to 500mm are excellent. To increase the focal length, you can use a teleconverter. During vehicle safaris, it is important to bring protection for the camera equipment as it is very dusty. If you have access to two camera bodies, it is good to have these with slightly different focal lengths. This is to avoid having to change lenses. Tripods are difficult to use in safari vehicles, here bean bags work better.

CLOTHING
The climate in South India is tropical, which means that both days and nights are warm, the temperature often rises above 30 degrees during the day and rarely below 20 at night. However, the nights are colder on the days we are at a higher altitude in the mountains, so you need a thick sweater in the morning. Pack light and cool but durable clothes. A thinner rain jacket or poncho is good to have with you. Bring a cap or beanie as protection from the sun. Hiking boots or a pair of thicker trainers are the best choice for the feet. Feel free to complete with some kind of sandals to wear in the middle of the day.

ACCOMONDATION
We stay in hotels and lodges of medium standard.

ACCESSIBILITY
The accommodation has no restrictions regarding accessibility. The safari vehicles and boats we use may mean a slightly reduced accessibility in case of reduced mobility. The nature of the trip means that certain environments may be less accessible in case of reduced mobility, contact us for more information.

INCLUDED IN THE PRICE
Accommodation (share in double room) and meals according to program, all entrances and fees in national parks, all safaris, local guides, photography lessons, local transport (minibus, open safari car, boat), transfers to and from airports.

NOT INCLUDED IN THE PRICE
Return flights Cochin and Bangalore, gratuity, insurance, cancellation protection, visa, if applicable. vaccinations and medical tests, drinks, meals not specified in the daily programme, telephone, internet charges and items of a personal nature.
MEETING POINT
The tour starts at Cochin International Airport and ends at Bangalore International Airport.
The tour guide meets and leaves the group at the airports. Exact times will be announced later.

TERMS OF PAYMENT
The registration fee is paid via invoice in connection with registration. The remaining amount is paid no later than 60 days before the tour.

PASSPORT AND VISA
Your passport must be valid for at least six months after returning home from India and have at least two blank pages. For Swedish citizens, a visa to India is required, read more about visas here.

When checking in for flights, a passport is required.
If you are a citizen of any other country please check with the nearest Indian Embassy if you need visa or not.

INSURANCE
We strongly recommend that you carefully review your travel insurance before the tour. Read the terms and conditions about what may and may not be included. It is important to check that compensation is included for travel home / ambulance transport in the event of an accident or serious illness. Often, for example, the travel cover in a regular home insurance needs to be supplemented.

HEALTH AND VACCINATIONS
Contact your doctor for advice on vaccinations.

THE GROUP AND LANGUAGE
Our tours are open to all nationalities, which means that the group can be international.
The tour guides on our trips speak Swedish and English.
Photographic leader
Jan Pedersen, born in 1957, is a photographer, writer and world traveller. He has more than 33 years of experience leading nature tours and nature photography tours all over the World – in biomes ranging from deserts to rain-forests. He has led tours in 55 different countries and has worked for several major Swedish tour operators. Jan is highly appreciated as a tour leader, guide and nature photography guide. He has produced tours and trained many new tour guides. Jan carries the idea of ecotourism close to his heart. He has been a member of the Swedish Nature Photographers Association (Naturfotograferna/N) since 2014 and is an internationally awarded photographer. In 2015 he was the overall winner in the international photo competition Asferico. He is also a very experienced teacher of photography and nature photography, arranging annual courses for societies and open colleges since 2001. He also teaches media training programmes.
Jan is one of Swedens most well-published nature book authors. His first book "I Arabiens öknar" was awarded WWF Sweden's Panda Book of the Year for children's books in 2000. His singing book "Fågelsång" is the all-time top-selling nature book in Sweden. It has sold a total of half a million copies in Sweden, Finland and Norway, as well as having been issued in eight other languages. The sequel "Vilda djur" was also a success, and was published in Norway and Finland, and in four other European languages. He has also authored popular books such as "Fågelresor", "Mitt I Naturen", "Fågelsång runt knuten", "Lyssna på djuren", "Djur i Världen", "Sveriges Fåglar – en fälthandbok för alla", and "Fåglar I Sverige och Norden".
Jan has written numerous articles for newspapers and magazines about wildlife and nature. He is also often engaged as a lecturer for a broad audience. Jan has also worked as a warden and a guide in Swedish nature reserves.