Some highlights
Sossusvlei's big red dunes
Quiver tree forest – here we photograph these beautiful trees under a fantastic starry sky
The ghost town of Kolmanskop – here we photograph the abandoned buildings that the desert is reclaiming
Photo safari in Dorob National Park where we look for the small animals of the desert such as the Namib Dune Gecko, Shovel-Snouted Lizard, sidewinder and Namaqua chameleon
4WD safari across the desert sand dunes to Sandwich Harbour. During this afternoon and evening, will we have nice landscape photo opportunities both on the dunes, "from above" and when the sea meets the desert
Flamingos, pelicans and other birds in Walvis bay
Welwitschia Mirabilis – one of the world's oldest plant species
We are looking for desert elephants
We are only 3 participants in each car. We travel in spacious four-wheel drive Toyota Hiace "Bakkies"
NAMIBIA…
…a place you thought couldn't exist. Namibia, like no other, combines the spectacular with the endless and surreal. Vast, ancient and extremely sparsely populated, but here there is an incredible variety and combination of different environments and landscapes. Join us on a photographic adventure to this exciting country. Our trip will offer a wide range of spectacular photo opportunities, from landscape photography to animal photography (both large and small). The cities in Namibia are still characterized by German architecture and you can find wonderfully good apfel strudel in the city's cafes.
We start our journey in Upington, South Africa. From here we go north and cross the border into Namibia and then move on to our first destination, the Quiver Tree forest outside Keetmanshoop. Here we will spend our first two days and we photograph the fantastic Quiver trees during the day, but the highlight is being able to photograph them at night against an absolutely incredible starry sky. During the two nights we are here, we will work with slightly different types of images in the sky, partly where we see the Milky Way, but we also photograph so-called star trail. The quiver tree or Kokerboom as it is called in southern Africa used to belong to the Aloe plants but is now in a different plant family. The tree is a large and branchy succulent that is only found in southern Africa and then especially in southern Namibia and the Northern Cape Province in South Africa.
From fantastic trees we make our way further west in Namibia and to the coastal town of Lüderitz. This is our base for the next two nights. We will photograph the colorful and German-inspired architecture in the city, but above all we will spend time in the nearby ghost town of Kolmanskop. At the beginning of the 20th century there was a diamond rush in Namibia and the small town of Kolmanskop flourished. However, the search for diamonds was short-lived and already during the 1920s the city began to decay. Now more the buildings are completely under the relentless favor of the Namib Desert, slowly the desert is taking back. The buildings have become an incredibly exciting photo attraction and we will spend plenty of time here. With special permission, we will be able to photograph both in the early morning and late evening.
Sossusvlei in the Namib-Naukluft National Park is our next stop on the trip. Some of the world's highest sand dunes await us here. Beautifully ochre-coloured, they are wonderful subjects to photograph in the morning and evening light. The most famous dunes are Big Daddy, Big Mama and Dune 45. In Sossulvlei we also find Dead Vlei, the area was once an oasis with acacia trees but then the river changed its direction and the area dried out and the trees died. Today the trees stand as black relics. Sossusvlei offers fantastic landscape photography and in addition to the famous motifs, we will take you to lesser known places. To be able to be out and photograph in the early morning light and late evening light, we stay at one of the two lodges located inside the park. Hopefully the nights will also give us great opportunities for star photography.
From Sossusvlei we make our way through the Namib Desert west towards the coast, more precisely to Swakopmund. With the city as a starting point, we will explore both the surrounding desert but also the coast. We will go out into the Dorob National Park and look for the small animals of the desert. With a little luck, we will have the opportunity to photograph both small geckos, chameleons, snakes and some of the other exciting animals that live in the desert. The sand in Dorob differs in color from the one we experienced in Sossusvlei, here the desert is yellow. During our days here, we will have the opportunity to photograph both sand dunes and other exciting desert environments, e.g. we do an afternoon/evening "excursion" to Sandwich Harbour. We take a four-wheel drive vehicle over the desert sand dunes and there will be many photo opportunities both on the desert from "above" when we cross the dunes but also where the sea meets the desert. In Sandwich Harbor there is also a bird-rich wetland. We will also see one of the world's oldest plant species, Welwitschia Mirabilis, some of the plants here are estimated to be more than 1500 years old. The coast south of Swakopmund is a fine birding area. We will make our way to Walvis Bay and spend time with flamingos and loads of other birds. Our days here will also give us opportunities to photograph some coastal and beach scenery.
We leave Swakopmund and head further north towards Cape Cross and the large fur seal colony found there. Here we are also invited to many meetings with birds. From Cape Cross we make our way into Damaraland and to Brandberg. Here the desert landscape changes to more mountainous and rocky, the landscape is dramatic. Here we hope that we have luck on our side, partly because the nights are clear so we can enjoy and photograph the fantastic starry sky seen here, partly because this is where we have the chance to see the desert-dwelling elephants. The desert elephants are not a separate species, but over the centuries they have adapted their way of life to the desert and the scarce resources found here. The elephants migrate from area to area depending on the season and rain. Here are also some of Namibia's absolutely finest rock paintings, which we should of course see.
Namibia is a large country, and sometimes there are long distances between the places we want to photograph, we travel in four-wheel drive Toyota cars with substantial cargo spaces.
During the trip, we will have different photographic workshops where we will, among other things, go through different techniques to prepare for different types of photography that will come during the trip. We also look at image composition and each other's images, all to develop your particular photography.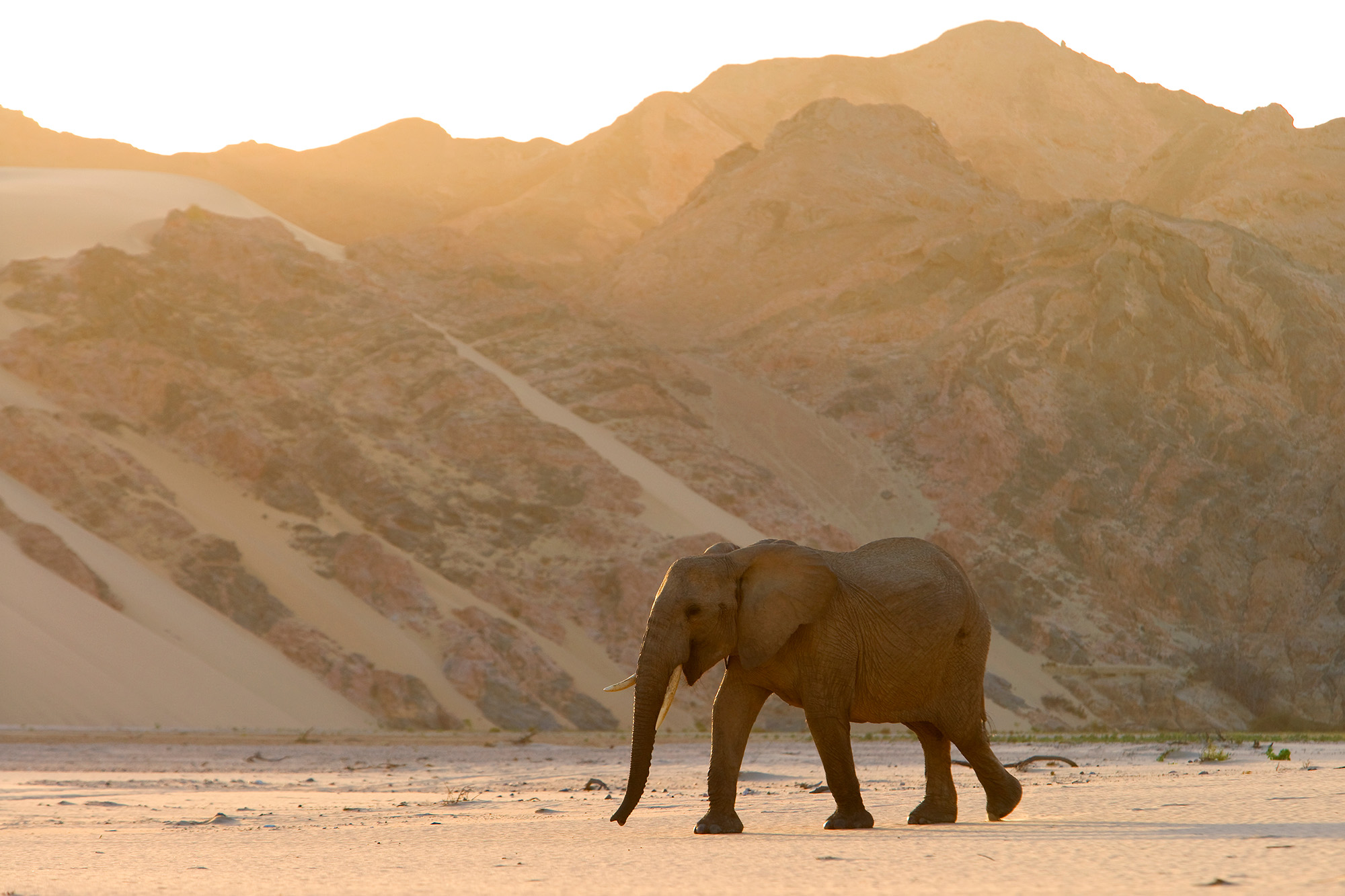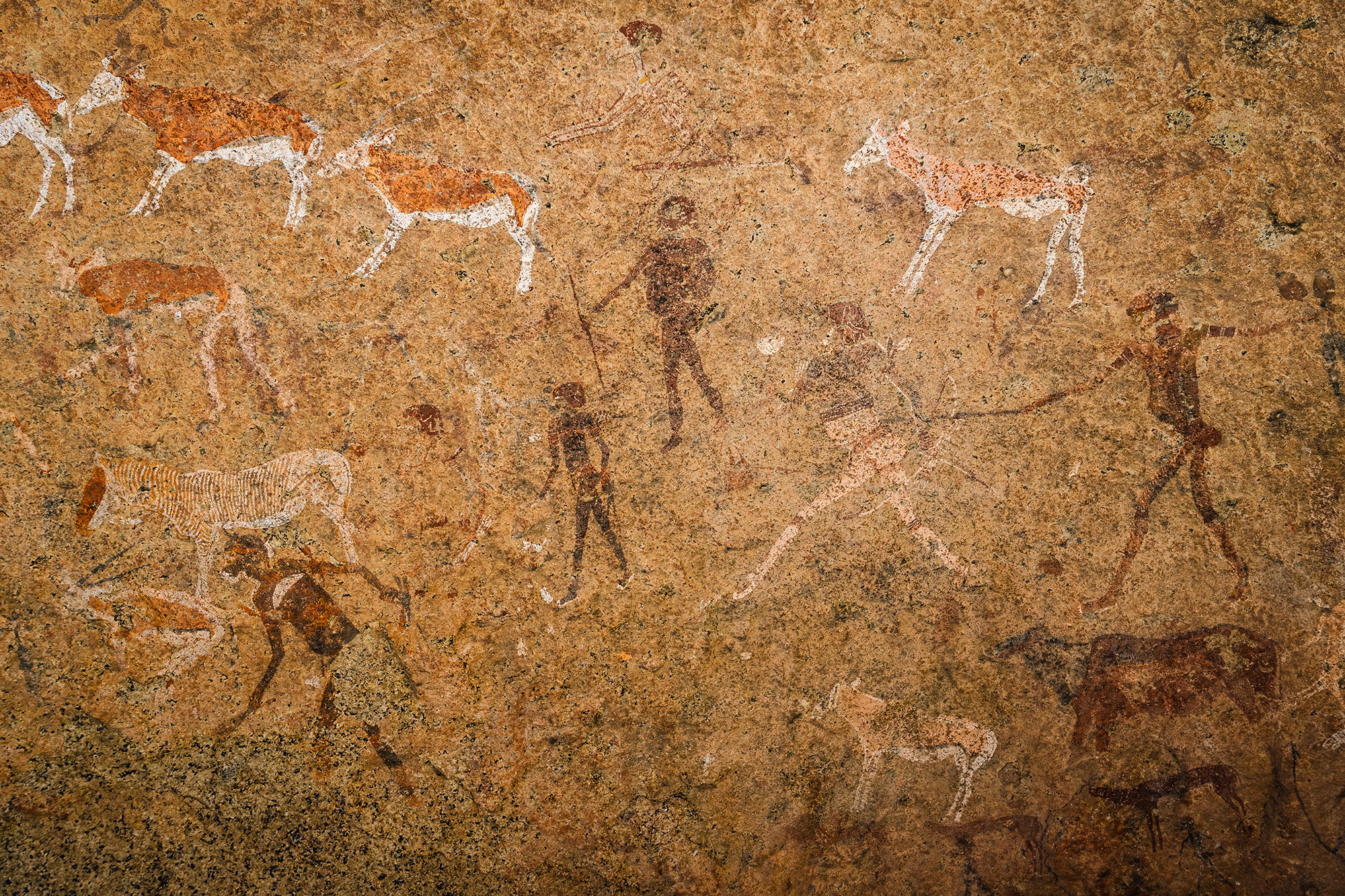 Itinerary
Day 1 (25/9) (Dinner)
Arrival in Upington, South Africa in the afternoon. We have a welcome dinner in the evening.
Day 2 (26/9) (Breakfast – Lunch – Dinner)
We travel towards Namibia and our first destination, the Quiver tree forest outside Keetmanshoop. We cross the border into Namibia around lunch and in the early afternoon we arrive. A little depending on what time it is when we arrive, there is an opportunity to take a first photo tour to the Quiver forest or we prepare for the star photography.
Day 3 (27/9) (Breakfast – Lunch – Dinner)
Depending on how late it was "yesterday", we might sleep in today. We spend the day looking at the night's pictures and see if we need to do anything differently the next night. During the afternoon and until dinner, we photograph in the forest and at the Giant's playground. After dinner, we take another session of night photography.
Day 4 (28/9) (Breakfast – Lunch – Dinner)
During the morning we start our journey towards Lüderitz, we will make photo stops on the way. Along our route is an area with wild horses that are often seen along the road. With a little luck, we can get them within photo range. The road goes through the desert and the two national parks Sperrgebiet and Namib Naukluft. The trip takes about 4-5 hours depending on how much we stay. After dinner in the evening we go out to photograph more starry skies.
Day 5 (29/9) (Breakfast – Lunch – Dinner)
Today we will visit the ghost town of Kolmanskop. We have special permission that allows us to enter early in the morning. We expect to be there at sunrise and photograph for a couple of hours. In the middle of the day, we take it a little more calmly and we can walk around Lüderitz and photograph the colorful buildings. In the afternoon we take another trip to Kolmanskop.
Day 6 (30/9) (Breakfast – Lunch – Dinner)
We travel towards Sossusvlei and our lodge. Lunch on the way. After we've checked in and rested for a bit, we head out to take photos. We spend the afternoon and evening among the sand dunes of Sossusvlei.
Day 7 (1/10) (Breakfast – Lunch – Dinner)
We start the day early and we get to Dead Vlei in time to be able to photograph the area in the nice morning light. We have breakfast packs with us so we can focus on the photography. In the late morning/early morning we make our way back to our lodge and rest a bit. During the afternoon we head out again to experience Sossusvlei. Where we go depends a little on the weather.
Day 8 (2/10) (Breakfast – Lunch – Dinner)
Even today, we start the day before sunrise. We head towards the area with the large sand dunes, but where we choose to focus our photography depends a little on our result from yesterday and weather conditions. In the morning we begin our journey towards Swakopmund. We travel through a barren desert landscape with few communities along the way. The afternoon and evening photography activities depend on when we arrive in Swakopmund, there are some interesting things along the way.
Day 9 (3/10) (Breakfast – Lunch – Dinner)
We start the day at a slightly more "normal" time today. We eat breakfast at our accommodation before being picked up around 7.30 by our guide who will take us out into the desert. All morning we are in the Dorob desert looking for the small animals of the desert. We hope to find many of the desert's animals, our tour also provides opportunities for landscape photography in the dune landscape. During the afternoon and evening we go out into the desert to photograph Welwitchia and an area known as the lunar landscape. There is also an oasis here that we will visit.
Day 10 (4/10) (Breakfast – Lunch – Dinner)
Today we go a little south of Swakopmund, to Walvis Bay to explore the bird grounds that are here. Along the coast and in floodplains we find thousands of smaller flamingos and other funny birds. We will also go to what is called Pink lake. During the afternoon and evening we head out into the desert. Over sand dunes we make our way to Sandwich Harbour.
Day 11 (5/10) (Breakfast – Lunch – Dinner)
In the morning we leave Swakpomund and head towards Damaraland. We take a small detour to Cape cross and the large fur seal colony there during the morning. We then continue towards Damaraland and Brandberg. We check in at our lodge and in the afternoon we go on a safari to try to find the desert elephants. NOTE: The execution of these safaris depends entirely on whether the elephants are in the area or not, we will be informed of that upon our arrival. If the conditions are right, we try to photograph the starry sky when it is dark.
Day 12 (6/10) (Breakfast – Lunch – Dinner)
If the desert elephants are in the area, we go on another safari to try to photograph them. We will also spend time on landscape photography and looking at the rock paintings that exist. Even tonight we will photograph the starry sky if the conditions are right.
Day 13 (7/10) (Breakfast – Lunch)
We leave this morning's program a little open depending on how late yesterday was. During the morning we get ready for departure to Windhoek airport or to Etosha National Park if you have chosen to come along on our extension trip there.
More information
PHOTO EQUIPMENT

As we will be photographing many different types of subjects, everything from landscapes to portraits of small animals and birds, it is advisable to bring everything from wide-angle lenses to telephoto lenses. For the slightly larger animals and birds, lenses such as a zoom 80/100-400mm or 500mm are excellent. A 70-200 mm zoom should be supplemented with a longer focal length or 2x teleconverter. To increase the focal length, teleconverters should be used in certain situations. A crop-format body ostensibly turns 400mm into 600 or 640mm. With a full-frame body, you should have a 1.4x converter with you if the longest lens has a focal length of 400 mm. When we are in the desert to photograph the small animals there, a short close range is important or that you have a macro lens. If you have access to two camera bodies, it is good to have both and have slightly different focal lengths on the bodies.

Tripods are good to have with you for landscape photography and absolutely essential for night photography. Please also bring filters such as ND filters and polar filters.

CLOTHING
The temperature in Namibia in October is warm, but it also depends on where in the country you are. Along the coast, mornings and evenings can be chilly and fog is not uncommon. In the desert it is often really hot. During the day, shorts and a t-shirt apply, alternatively thin long trousers. Bring a cap or beanie as protection from the sun. A pair of thicker trainers and sandals are the best choice for the feet.

ACCOMMODATION
Our accommodation during the trip will vary in quality. In Sossusvlei we stay inside the national park in one of two luxurious lodges to be able to take advantage of the beautiful morning light, while in Spitzkoppe we stay in a very simple camp. Other accommodation is of middle range standard.

ACCESSIBILITY
The accommodation has certain restrictions in terms of accessibility. The vehicles we use may mean slightly reduced accessibility in the event of reduced mobility. The nature in which we move means limitations in participation in case of reduced mobility.

INCLUDED IN THE PRICE
Accommodation (share in double room) and meals according to program, all entrances and fees in national parks, all safaris, local guides, photography lessons, local transport (four wheel drive Toyota), transfer to and from Windhoek airport.

NOT INCLUDED IN THE PRICE
Return flights to Upington/Windhoek, tips, insurance, vaccinations, possible medical tests, cancellation protection, drinks and meals not specified in the itinerary, telephone, internet charges and things of a personal nature.

MEETING POINT
Windhoek International Airport. The tour begins and ends here. Exact time will be announced later.
TERMS OF PAYMENT
The registration fee is paid via invoice in connection with registration. The remaining amount is paid no later than 60 days before the workshop.

PASSPORTS AND VISAS
All visitors traveling to Namibia must have a passport valid for at least 6 months from the planned date of departure from Namibia. In addition, the passport must have at least 2 blank pages for the entry and exit service to be stamped. In addition, all visitors must have a valid return ticket from Namibia. Swedish citizens obtain a visa upon entry for tourist visits. This visa can be valid for 90 days but it is up to the passport control upon entry to decide how long you can stay.
When checking in for flights, a passport is required. If you're not a Swedish citizen please check what applies to you.

INSURANCE
Contact your insurance company about travel insurance and cancellation insurance. We always recommend travel insurance that covers medical transports both at the destination and for transport home.

HEALTH AND VACCINATIONS
Contact your doctor for advice on vaccinations. Also check any requirements for medical tests for entry into the country.

THE GROUP AND LANGUAGE
Our tours are open to all nationalities, which means that the group can be international.
The tour guides on our trips speak Swedish and English.
Photographic leader
Henrik Karlsson, born in 1968, is a photographer, writer and conservation biologist.
Henrik is a trained biologist and used to work with water and conservation issues.
He is an ambassador for OM SYSTEM and has been appointed as a National Geographic Explorer and is a member of the Swedish Nature Photographers Association (Naturfotograferna/N) as well as PhotoNatura. In 2003 he was awarded Naturfotografernas/N and Kodak's scholarship. Henrik has also won awards in several European photo competitions.
Henrik has a wide selection when it comes to subjects to take images of and tell stories about. He will be more than happy to photograph everything from insects to the orchids in the forest or the great wild animals around the world. He has the whole world as his photographic field but is more and more drawn to Africas beauty and wildness.
Previously, Henrik worked as a guide in several Swedish Nature Reserves and National Parks. He is a frequent lecturer and an appreciated guide on photo courses and workshops. He also leads photo tours all over the world.
In 2011 Henrik self-published the book "Mångfaldens ö – bilder och tankar från Ölands natur", and the book "Vilda Norden" was published in 2017. 2020 he published the book Ölands orkidéer and in 2021 Orkidéer på Gotland.