Some highlights
A real winter expedition to Scandinavia's best muskox photo spot
We are on site with the musk oxen in the finest photo light every day
World-class photo opportunities in a high arctic winter environment in Norwegian mountains
This time of the year, the musk oxen are in their most beautiful, often snowy, winter fur
We use dog sleds to get up the mountain to our winter expedition camp
Floris Smeets is one of Norway's best wildlife photographers, also a certified Dovrefjells guide
Winter expedition equipment included – sturdy tents, snowshoes, sleeping bag, sleeping mat and food
The muskox is one of Scandinavia's original animals, they spred everywhere where the Ice Sheet retreated. Then the lightly hunted animals were exterminated by the overly efficient early hunters and disappeared into the mists of history. During the 1940s, however, the musk ox was reintroduced from Greenland to Norway, and one of the most powerful animals of our natural heritage was back. Today, 100 years later, approximately 300 muskox live in Scandinavia, the vast majority in Dovrefjäll, even a few that have migrated from Dovre to Härjedalenfjällen in Sweden. They are peaceful animals and especially during the winter they take it easy to save energy. As with all other large, wild animals, you should of course not get too close, which is why it is so good to be led by an experienced guide who knows how to best behave. Winter site selection by musk oxen is a relatively predictable story and does not vary much from day to day, unless they are spooked. This means that the leader knows with a fair degree of certainty where to expect to find them.
In order to get good muskox pictures, both patience, some waiting time, some sound discipline and using early mornings and late evenings are needed. We'll be there for what's usually the best part of the mid-winter season, we'll be there 24 hours a day, with probably the best guide for this particular thing up here.
This is an intense wildlife photography expedition which has been described by many as an experience of a lifetime. An official National Park guide will take you with dog sledges into the mountains of Dovrefjell where you will stay for four days, photographing wild roaming musk-oxen. You will photograph these impressive animals in the harsh Norwegian winter conditions, with temperatures dropping well below -20 degrees and a good chance for a winter storm to pass through. This tour is for the more adventurous nature photographer.
THE TENTS
We use high end expedition tents which can stand the toughest conditions. We have camped out in winds of 28 meter per second and the tents easily stood their ground. The tents are large and offer a comfortable housing for 3 persons. In each tent there will be 2 or 3 persons staying, depending on the group size.
THE WEATHER
The temperature will probably be around -15 during daytime and around -20 at night time. These mountains are known for the strong wind which suddenly can pick up and disappear again. This means that the weather can change rather fast from hour to hour. During the tours there is a good chance that we will get into blizzards. Proper clothing is an absolute must!
THE GUIDE
Floris Smeets is one of the official Dovrefjell Nation Park guides. He is experienced and knows the area and animals well. Over the years, he has guided groups in some of the toughest winter weather conditions and will always put the group's safety upfront. Even though the conditions can be challenging, you will be safe in his hands. Additionally, he is a professional photographer and Sony Ambassador. He plans the tours to maximize your photographic results. You will be on the right spot at the right time and can always ask for tips and feedback.
PHYSICAL CONDITION OF THE PARTICIPANTS
You need to be fit for this tour! You have to be able to walk several (3-5) hours per day, also in rather steep terrain. We will walk mostly with snowshoes. Only on the tops of the mountains, where the musk-oxen mainly are, we will not need snowshoes. Snowshoes are provided for you. Participants have to carry their own photo equipment plus 1 Liter of tea or coffee and food for the day.
FOODS AND DRINKS
Because the temperature will be below freezing during the tour (about -15 on day time and -20 at night), it is not possible to bring regular food or drinks. Those will freeze. Quality expedition food, of the brand "Adventure Food", is supplied for you. We have tested several brands, and this brand makes the tastiest meals and has a good amount of calories. I also supply every participant with a 1 liter thermos for tea or coffee. In order to make tea or coffee, we have to melt snow every day. I supply burners and pots, which are specially designed for winter usage. Some snacks, such as chocolate, cookies and peanuts, don't contain any or much water. It is possible to bring those with us for extra energy.
On the first and last day, we will have regular food and drinks.
SLEEPING BAGS
Because the temperature at night will be about -20 degrees, we need good sleeping bags. The tents isolate quite well. It will be about 8 degrees warmer in the tent, if there are 3 persons inside. We supply all guests with good winter sleeping bags. You only need to bring your own sleeping bag liner. It is very important that the liner is made out of fleece, because other materials will feel cold during winter. If you have got a sleeping bag for these conditions, you can bring it. Please tell us the brand and model of your sleeping bag, so we can check for you if it will be warm enough for this trip.
DISCLAIMER
We will have some of the best winter camping gear with us, which allows us to camp out in the mountains even during very challenging weather conditions. Even though our tents can stand windspeeds around 150km/h, the windspeed should not exceed 75 km/h when setting up the camp. In case the weather will be too extreme and will not allow us to set up camp, we will stay in the cabins outside the National Park. In that case we will hike in and out of the mountains every day in order to photograph the musk-oxen. Sadly, staying more nights at the cabins brings additional costs of NOK 1250,- per person per night.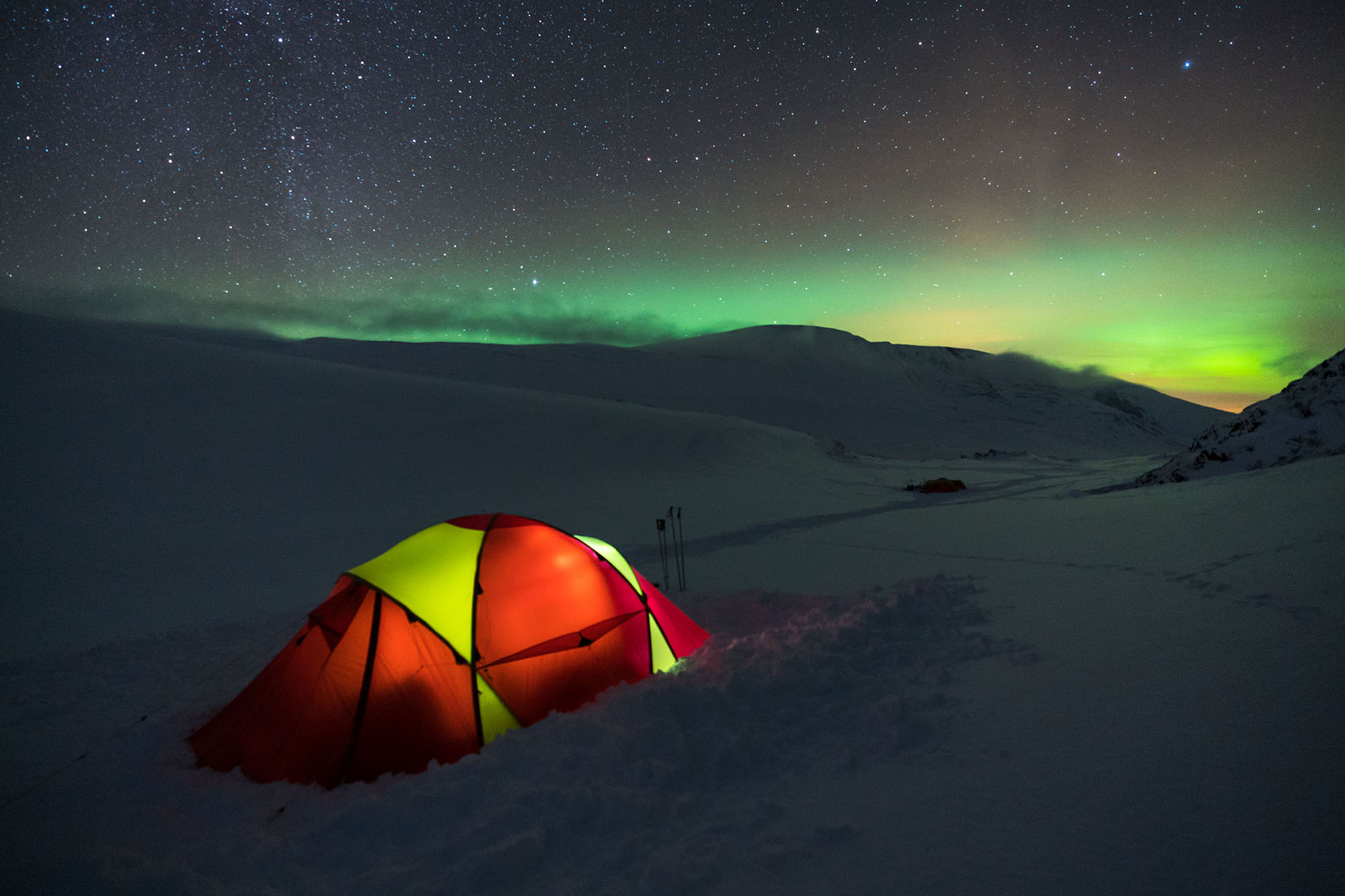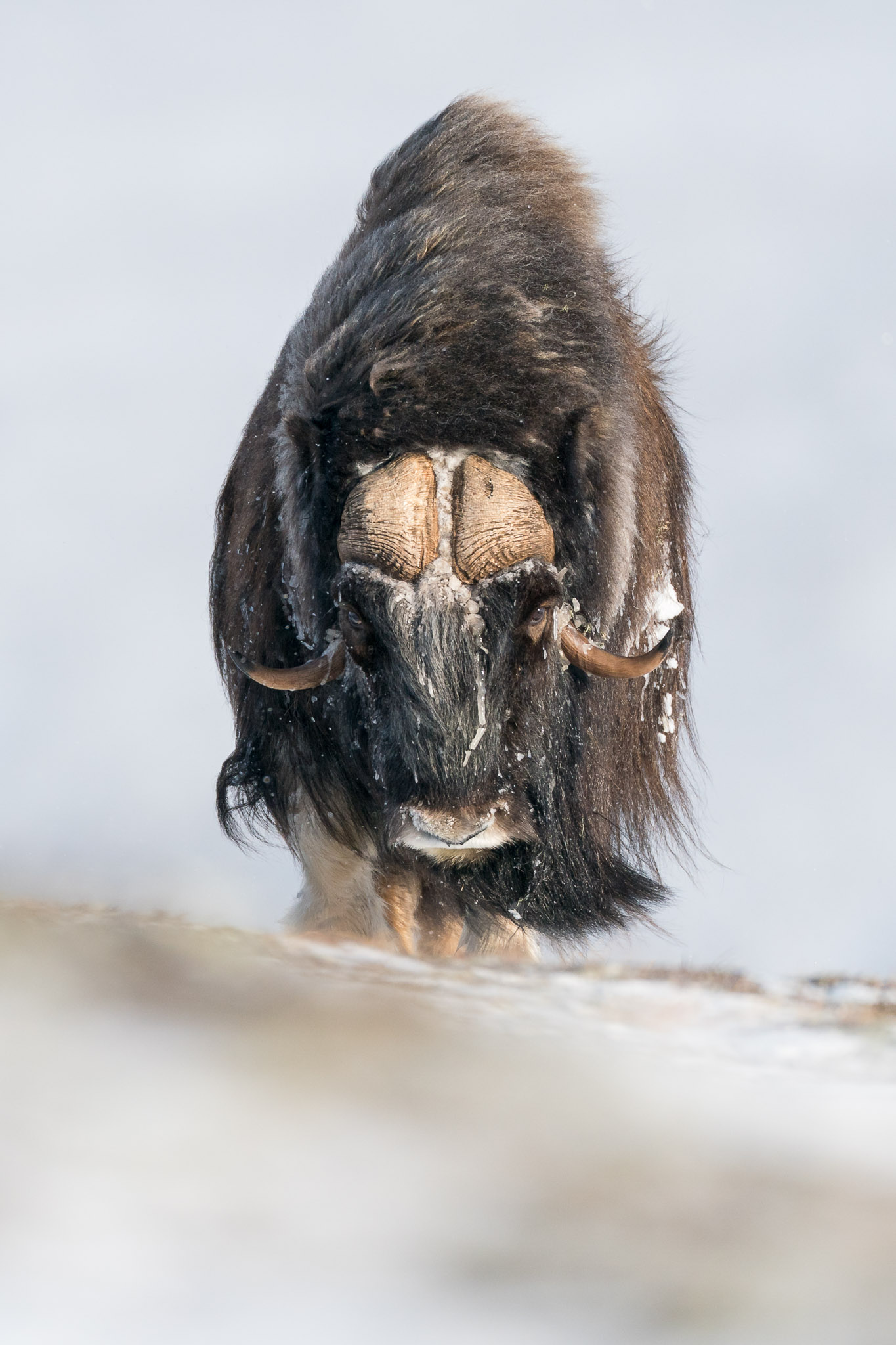 Itinerary
Day 1 (7/2) (Dinner)
You will fly on Oslo Gardermoen airport. Here you will be picked up and be driven to the accommodation just outside the National Park of Dovrefjell. The drive takes about 5 hours. The first night we will stay in comfortable cabins, just outside the National Park. We will use the same cabins again for the last night. So you can leave behind some belongings you won't need with you during the days out in the mountains.
Day 2-4 (8-10/2) (Breakfast – Lunch – Dinner)
In the morning of the 8th February we will meet up with a team of husky mushers, who have several sledges for our equipment and us. There will be some single person and two person sledges. The mushers will explain you how to ride the dog sledge. The huskies will bring us up into the mountains. At the steepest sections of the journey up, we have to help the huskies by pushing the sledges. The ride up to the base camp will take about 90 minutes. We will be dropped off at the location where we will set up our tents. After setting up the camp, we head out for our first hike to the musk-oxen. The musk-oxen will probably be within 30 to 90 minutes walking distance from our camp.
During the trip we sleep outside in tents for 3 nights. This gives us the chance to photograph the animals during first and last light. If you would leave the park every day and sleep in an hotel instead, you would not be able to be with the animals during the best light. The tents we use are large extreme expedition tents. They can stand a strong storm and are well isolated. In each tent 3 persons can sleep comfortable plus there is enough space for the equipment. 
Depending on how motivated the group is, we will get up about 3 hours before sunrise. After eating breakfast and packing our bags, we hike to the musk-oxen before first light. The aim is to be with the animals at least about 30 minutes before sunrise. Depending on the distance that the animals are from our camp, we will either stay the whole day out with the animals or return to the camp for lunch. We stay with the animals until the light has gone bad and hike then back to our base camp where we will have our dinner. If it is very cloudy during the trip, it doesn't make sense to be so early at the animals. Then we can sleep a bit longer.  
Day 5 (11/2) (Breakfast – Lunch – Dinner)
This is the last day in the mountains. We will be picked up with the huskies at about 14:00. Before that, we will have the possibility to photograph the musk-oxen at sunrise. We have to be back at our camp at 12:00 to pack everything again. That night we will sleep again in the comfort of the heated cabins, just outside the National Park and enjoy a delicious meal in the local restaurant.
Day 6 (12/2) (Breakfast)
In the morning you will be driven back to Oslo Gardermoen airport and fly home again.
​
More information
PHOTOGRAPHIC LEARNING
On all our tours we have different theoretical photography workshops. These workshops are always related to the specific tour and can be anything from teaching different photography techniques or tips and tricks for image editing to talking about image composition or preparing for special photo opportunities on the trip.

Throughout the trip, our photography leader provides active photography advice when we are out in the field. Everything for you to develop as a photographer and take fantastic pictures home with you.

PHOTO EQUIPMENT
For photographing the musk-oxen you will need a minimum of 400mm on a full-frame camera or a 300mm on a crop camera. A telephoto lens of 70-200mm or 100-400mm is always handy to have as extra lens. This allows you to frame the animal small in the landscape and these lenses are also ideal for photographing the stunning landscape we will be in. At night there is a chance for northern light. A wide angle lens with an aperture of f2.8 or lower would be perfect to photograph our campsite under the northern lights. A tripod is necessary for this. It is up to you to decide if you will need a tripod for photographing the musk-oxen. Most guests photograph while laying down or resting the lens on a rock or backpack.

Other things you should bring, are:​ plenty of memory cards, plenty of batteries (there is no possibility to charge batteries in the camp. Due to the low temperatures the batteries will get drained faster than usual), battery charger (to charge before leaving), filters (ND, gradient and polarizer), laptop, external harddrive or image tank to back up your images.

CLOTHES
We will be outside for 4 day in freezing temperatures. Good clothing is the most important thing of the tour! Find here a short list of the most important pieces of clothing you will need. We will send you a complete packing list well in time before the tour

Jacket. We will be sitting still a lot, waiting for the musk-ox to move or waiting for good light. Your upper body has to stay warm at all time. A proper expedition down jacket for temperatures down to -40 degrees Celsius is an absolute must. 

Shoes. Well isolated snow boots. Make sure that the boots are at least one size too large so that it is possible to put on several layers of woolen socks. 

Gloves. For your hands it is the best to have a set of thermo-gloves (with which you can control the camera) plus a set of thick mittens (for when you are waiting).

Trousers. Because your legs warm up a lot during walking, you cannot wear the warmest types of trousers. The combination of a warm pair of skiing trousers plus a insolated shell / insolated rain trousers should do the trick. You will wear the skiing trousers as main trousers and can add the extra layer when we are sitting still for long periods.

Base layers. It all starts with a proper set base layers. Don't go cheap on them!

ACCOMMODATION
Double bedrooms and expedition tents. The first and last night we stay outside the national park in comfortable cabins. During our stay in the mountains, we stay in special winter expedition tents.

ACCESSIBILITY
The nature of this tour means that the environments is not suitable in case of reduced mobility.
INCLUDED IN THE PRICE
Shared double room and expedition tent, meals according to itinerary, husky tour to and from our base camp, expedition equipment (Snow shoes, walking sticks, winter sleeping bag, winter sleeping mat, cooking gear, 1L thermos.), local guides, , photo lectures, all local transport including transfer from and to Oslo Gardermoen airport.

NOT INCLUDED IN THE PRICE
Return flights to Oslo (NOTE! Please contact us for information on airline tickets before you book your flights), travel insurance, cancellation protection, drinks and snacks, eventual gratuities and items of a personal nature.

MEETING PLACE
Oslo Gardermoen Airport (OSL). The tour begins and ends here.

PAYMENT TERMS
The registration fee shall be paid after an invoice from us, right after your booking. The remaining amount shall be paid no later than 60 days before the trip. Payment will be in Swedish crowns (SEK). Amount in Euro and US dollars mentioned above are just reference amounts.

PASSPORT AND VISA
If you are an EU citizen travel within the EU or to the Schengen countries Norway, Switzerland, Iceland and Lichtenstein, you must always bring your passport or national ID card issued by the police. When checking in for a flight, a passport is required.

For citizens outside of the EU please check if you need a visa to enter Norway.

INSURANCE
Contact your insurance company about travel insurance and cancellation insurance. We always recommend travel insurance that covers medical transports both at the destination and for transport home.

HEALTH
See above and please check with your doctor.

GROUP AND LANGUAGE
Our tours are open to all nationalities, which means that the group is often international.
Our tour guides speak both Swedish/Norweigan and English, and sometimes also other languages.
Photographic leader
Floris Smeets, born 1986 in the Netherlands. Living in Norway since 2010. Since 2014, Floris has been working full-time with nature photography, guiding and as a workshop leader.
He has a great passion for guiding and loves to share his knowledge with the participants at workshops.
Floris has a strong focus on the Norwegian nature and especially animals and landscapes. He always works with great respect for animals and nature and thinks it is very important that pictures are taken without disturbing the animals or changing the environment. With his pictures, he not only captures the beauty of nature, but in a way where the pictures tell a story.
Floris is the Sony Europe Imaging Ambassador. His images have been published in a wide range of magazines and exhibitions.
Floris is a licensed guide in Dovrefjell National Park and has many years of experience camping under really challenging winter conditions. Floris speaks English, Norwegian, Dutch and German.