Some highlights
Dramatic landscapes and seascapes
Good chances to photograph Northern light
Spectacular sunrises and sunsets along the coast line
Impressive fjords, dramatic steep mountains rising straight out of the sea
Good chances of photographing Nordic wildlife such as reindeer, different arctic birds
Join us on this intense nature photography workshop to one of the most stunning islands of Norway, Senja.  Dramatic landscapes, spectacular northern light, stunning sunrises / sunsets and Nordic wildlife will pass in front of your lens from day to day. The tour leader Floris Smeets (Sony ambassador) has been guiding in this area for nearly a decade. He will make sure you will be standing at the right location at the right time and he will help you to get the maximum out of every photo opportunity.
SENJA
Senja, the second largest island of Norway, is for many nature photographers a still undiscovered treasure. The island is situated about 100km north from the well known Lofoten Islands. The total surface of Senja might be quite a bit smaller than the Lofoten islands, but it has to offer just as many stunning photo opportunities.
Due to the northernly position, the island is perfect for photographing northern light. Even with a low KP index this spectacular light show can be seen in the sky above the island. This in combination with the impressive fjords, dramatic steep mountains rising straight out of the see and the in birch covered hills, makes this island a Valhalla for landscape and northern light photography. On top of that the local wildlife shows itself frequently. Semi-domesticated reindeer, moose, otters, white tailed sea eagles, golden eagles, grouse and mountain hares thrive here. Senja is nothing short of a paradise for the all-round nature photographer!
PHOTOGRAPHY
During this tour, the main focus lays on photographing northern light and landscapes. Depending on the northern light activity, we will visit on daytime one or two "large" photo locations and will stop several times at "smaller" locations. The guide knows the area very well, knows which locations to visit at what time of the day and with which weather conditions. Therefor the program will be rather flexible during the trip and it can change when weather conditions change. In this way you will always be standing at the right location at the right time. If we encounter wildlife during the drives, we will of course stop to photograph. If the groups wants, we can dedicate some extra time in finding and photographing wildlife.
The accommodation is situated at the north west side of the island. From here we can reach most photo locations within a rather short drive. Also for the northern light photo locations we don't have to drive far. Some days we will visit locations situated further away, but we will make plenty of photo stops during the longer drives.
DAY PROGRAM
During the day we spend as much time as possible photographing landscapes and wildlife. The main focus will be on the sunrises and sunsets, but there will be plenty to photograph in between. If there is a chance for a nice sunrise, we will be out photographing before breakfast. When the sky is clear during the nights, we will try to photograph the northern light. The guide knows the good locations and will make sure that the group will be on the right location at the right time. We will use apps for predicting the northern light activity as good as possible. Of course we also need to sleep at some point. If we have been out photographing northern light all night, we have to catch up some sleep during the day. If wanted, there will be opportunities for photo discussion and photo editing.
BREAKFAST, LUNCH AND DINNER SCHEDULE
Breakfast will be available from 08:00 to 10.00 in the local restaurant.
Lunch packages have to be made by ourselves during breakfast. We will take the lunch with us into the field and eat wherever we will be at lunch time.
Dinners will be available from 18:00 to 20:00 in the local restaurant. The dinners consist of two courses and will change from day to day.
The quality of the food served in the restaurant is very good. Most products are fresh and local.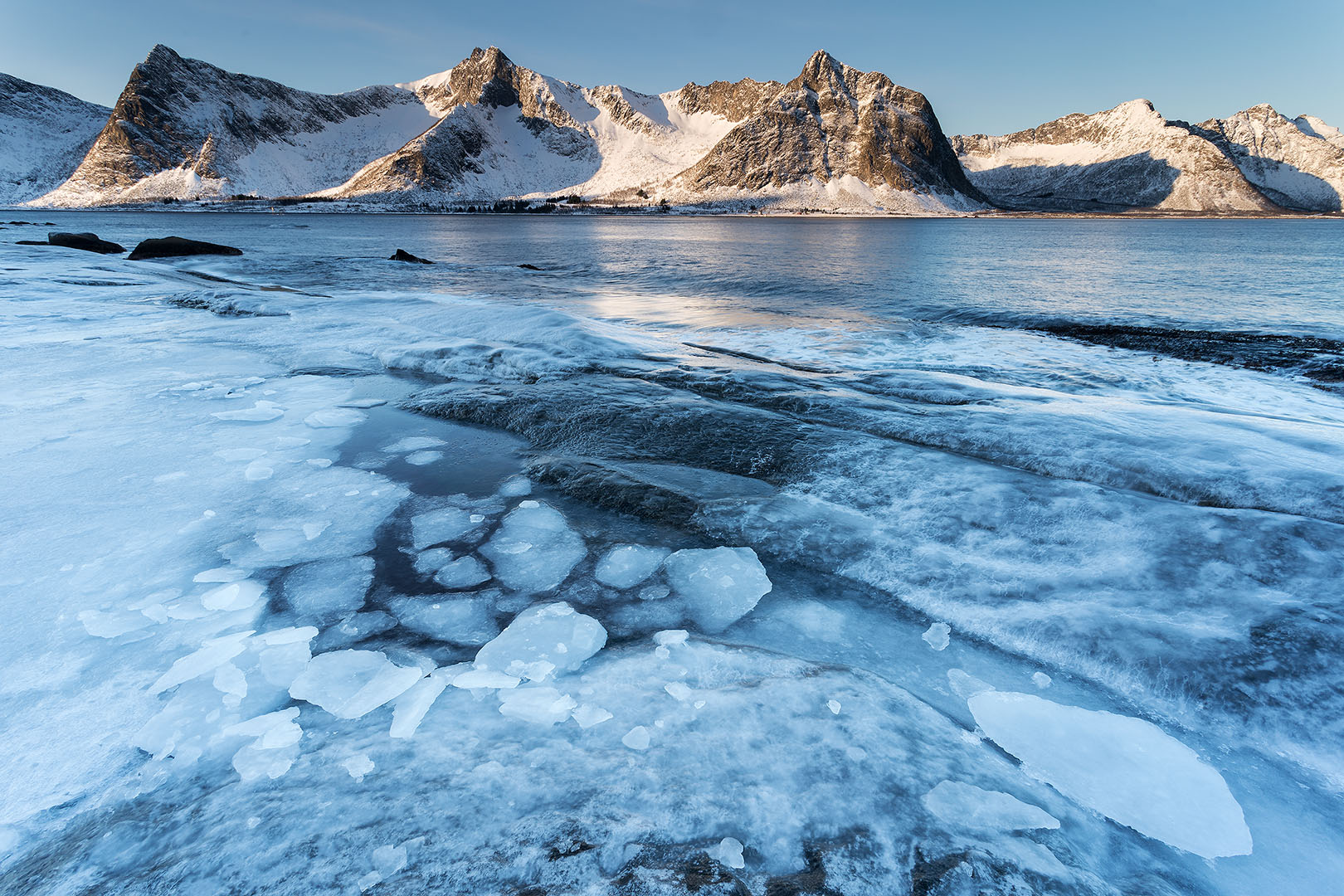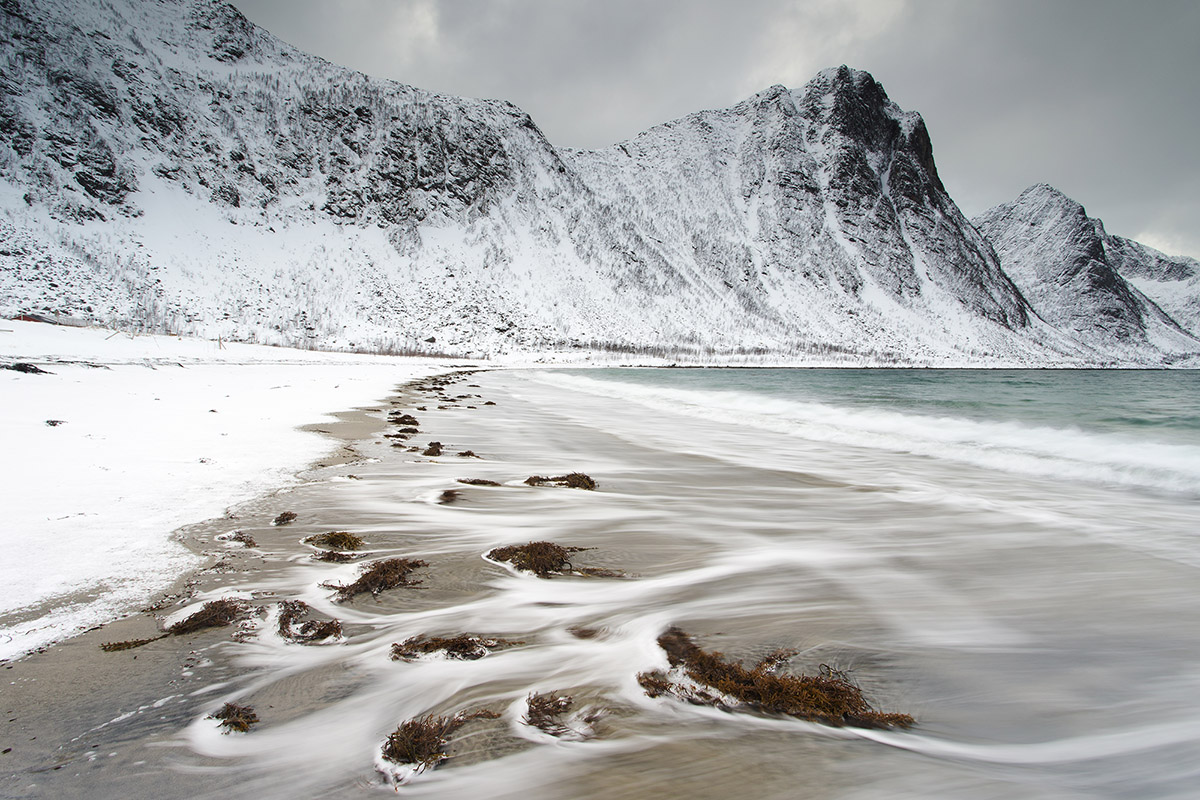 Itinerary
Day 1 (4/3) (Dinner)
You will fly on Bardufoss airport. In order to get there, you have to change flights on Oslo Gardermoen airport. At Bardufoss airport you will be picked up by the guide Floris Smeets, who will drive the group in a mini bus to the accommodation on Senja. This ride takes about 2 hours. After dropping the luggage off at the apartments we will have dinner in the restaurant where Floris will give an introduction for the coming week.
Day 2-7 (5-10/3) (Breakfast – Lunch – Dinner)
Depending on the weather and if there has been northern light during the night, we will head out for photographing sunrise before breakfast. Breakfast is between 08:00 and 10:00. We will make our own lunch packages after breakfast. Afterwards we head out again to photograph landscapes and wildlife. Lunch is eaten out in the field. Depending on the weather, we will stay out and photograph until after sunset. Once the light is gone, we head back to the accommodation. Dinner is between 18:00 and 20:00. If there is a chance for northern light, we head out again after dinner.
Day 8 (11/3) (Breakfast)
We pack our bags and leave to the airport after breakfast. You will fly back from Bardufoss airport.
More information
PHOTOGRAPHIC LEARNING
On all our tours we have different theoretical photography workshops. These workshops are always related to the specific tour and can be anything from teaching different photography techniques or tips and tricks for image editing to talking about image composition or preparing for special photo opportunities on the trip.

Throughout the trip, our photography leader provides active photography advice when we are out in the field. Everything for you to develop as a photographer and take fantastic pictures home with you.

PHOTO EQUIPMENT
During the tour we will mainly focus on landscapes and northern light. But with the abundance of wildlife on the island, we will also dedicate some time to photograph wildlife. This means that next to wide angle lenses a zoom lens, such as a 100-400mm, will come in handy. For the northern light a wide angle lens with an aperture of f2.8 or lower is advised. For the landscapes you can use a large variety of lenses. The best would be if you could cover the range from 16mm up to 200mm. For example, a 16-35mm, 24-70mm and a 70-200mm. If you will bring a 100-400mm or similar, this can replace the 70-200mm. If you don't have a full frame camera but a crop camera, try to cover the range from 10mm up to 150mm.

Other things you should bring, are:​ plenty of memory cards, plenty of batteries (these can drain fast while shooting northern light in the cold nights), battery charger, tripod (please bring a sturdy one!), filters (ND, gradient and polarizer) (please let us know if you need filters), laptop, external harddrive or image tank to back up your images.

CLOTHES
The temperature on Senja during the winter can vary a lot. At the coast the temperature will most likely be around -5 degrees Celsius, but more central on the island the temperature can drop below -20. Please bring plenty of layers so you can dress accordingly.

ACCOMMODATION
Cozy twin room apartments, with own bathroom, kitchen and living room.

ACCESSIBILITY
The accommodations are reasonably accessible. The nature of the tour means that the environments may be less accessible in case of reduced mobility. If you have any questions or doubts, please contact us first so we can discuss what the possibilities look like.
INCLUDED IN THE PRICE
Shared double room, meals according to itinerary, local guides, , photo lectures, all local transport including transfer from and to Bardufoss airport.

NOT INCLUDED IN THE PRICE
Return flights to Bardufoss (NOTE! Please contact us for information on airline tickets before you book your flights), travel insurance, cancellation protection, drinks and snacks, eventual gratuities and items of a personal nature.

MEETING PLACE
Bardufoss Airport (BDU). The tour begins and ends here.

PAYMENT TERMS
The registration fee shall be paid after an invoice from us, right after your booking. The remaining amount shall be paid no later than 60 days before the trip. Payment will be in Swedish crowns (SEK). Amount in Euro and US dollars mentioned above are just reference amounts.

PASSPORT AND VISA
If you are an EU citizen travel within the EU or to the Schengen countries Norway, Switzerland, Iceland and Lichtenstein, you must always bring your passport or national ID card issued by the police. When checking in for a flight, a passport is required.

For citizens outside of the EU please check if you need a visa to enter Norway.

INSURANCE
Contact your insurance company about travel insurance and cancellation insurance. We always recommend travel insurance that covers medical transports both at the destination and for transport home.

HEALTH
Please check with your doctor.

GROUP AND LANGUAGE
Our tours are open to all nationalities, which means that the group is often international.
Our tour guides speak both Swedish/Norweigan and English, and sometimes also other languages.
Photographic leader
Floris Smeets, born 1986 in the Netherlands. Living in Norway since 2010. Since 2014, Floris has been working full-time with nature photography, guiding and as a workshop leader.
He has a great passion for guiding and loves to share his knowledge with the participants at workshops.
Floris has a strong focus on the Norwegian nature and especially animals and landscapes. He always works with great respect for animals and nature and thinks it is very important that pictures are taken without disturbing the animals or changing the environment. With his pictures, he not only captures the beauty of nature, but in a way where the pictures tell a story.
Floris is the Sony Europe Imaging Ambassador. His images have been published in a wide range of magazines and exhibitions.
Floris is a licensed guide in Dovrefjell National Park and has many years of experience camping under really challenging winter conditions. Floris speaks English, Norwegian, Dutch and German.