Some highlights
Visit to the Mountain gorillas
To increase your photo opportunities you can book a second visit to the Mountain gorillas
Visit to the Chimpanzees in Kibale National Park
To increase your photo opportunities you can book a second visit to the Chimpanzees
Visit to the highly endangered Golden monkey in Mgahinga National Park
Visit to Bigodi swamp where we look for the monkeys Black and white colobus, Red colobus, Red-tailed monkey and Grey-cheeked mangabey
Fantastic bird life with lots of exotic species where the Great blue turaco is the crown jewel
We go to Uganda when it is NOT rainy season
All local transports are in comfortable Toyota Landcrusiers
The tour leader will show you their best spots and provide photographic advice to a small group that share the same interests

MOUNTAIN GORILLAS
During the British colonial era, Uganda was nicknamed the Jewel of East Africa and it is a name that still is valid for Uganda. The country is a real natural jewel with a huge diversity of mammals, birds, reptiles and insects. At the top of the list is probably the mountain gorilla, one of the world's most endangered mammal species. Today, it is estimated that there are just under 1,000 mountain gorillas left in the wild and all live in the Virunga Mountains, located in Uganda, Rwanda and Congo-Kinshasa, and in the nearby Bwindi Impenetrable forest. To experience the mountain gorillas in the wild is something that you never will forget, perhaps it is one of the greatest nature experiences you can get. We have one trek to the Gorillas included in the price but if you want to increase the experience and photograph you can pre-book a second "gorilla trek". Visits to the gorillas are strictly regulated and the time you can spend with the gorillas is limited. We will visit the mountain gorillas in Mgahinga National Park or in the Bwindi Impenetrable forest.
CHIMPANZEE
The chimpanzee is one of Uganda's other really brilliant jewels in nature. Together with the bonobon, the chimpanzee is the ape that is most closely related to humans, it shares about 99% of its DNA with modern humans. During our day with the chimpanzees, we start early in the morning to have time to find the chimpanzees before they wake up for the day. Then we follow them in their lives during the day, we pretend that we eat what they eat, we do what they do, etc. all to get as close to them as possible and experience the chimpanzees' everyday life. A day with the chimpanzees means that once we have found them, we can spend about 4 hours with them. Also here you can pre-book a second visit to the Chimpanzees to get more photo opportunities.
GOLDEN MONKEY
During our days in Mgahinga National Park, we will also spend a day looking for the highly endangered Golden monkey that only lives in the Virunga Mountains in the border area between Rwanda, Uganda and Congo-Kinshasa. During our days among gorillas, chimpanzees and Golden monkeys, we will of course find many other exciting animals and birds that we are given the opportunity to photograph.
BIGODI WETLAND
Bigodi wetland is a fascinating area. The reserve is known for its rich biodiversity, where there are several species of primates, including Eastern black-and-white colobus (Colobus guereza), Grey-cheeked mangabey (Lophocebus albigena) and Red-tailed monkey (Cercopithecus ascanius). In addition to these species, which we have great chances to photograph, there are also Red colobus (Piliocolobus tephrosceles) and Mountain monkey or L'Hoest's monkey (Allochrocebus lhoesti) i Bigodi. The latter, however, is very rare to see.
Bigodi is also very rich in birds and we will try to get good photo opportunities on the Great blue turaco which is the real jewel in the bird fauna in the area.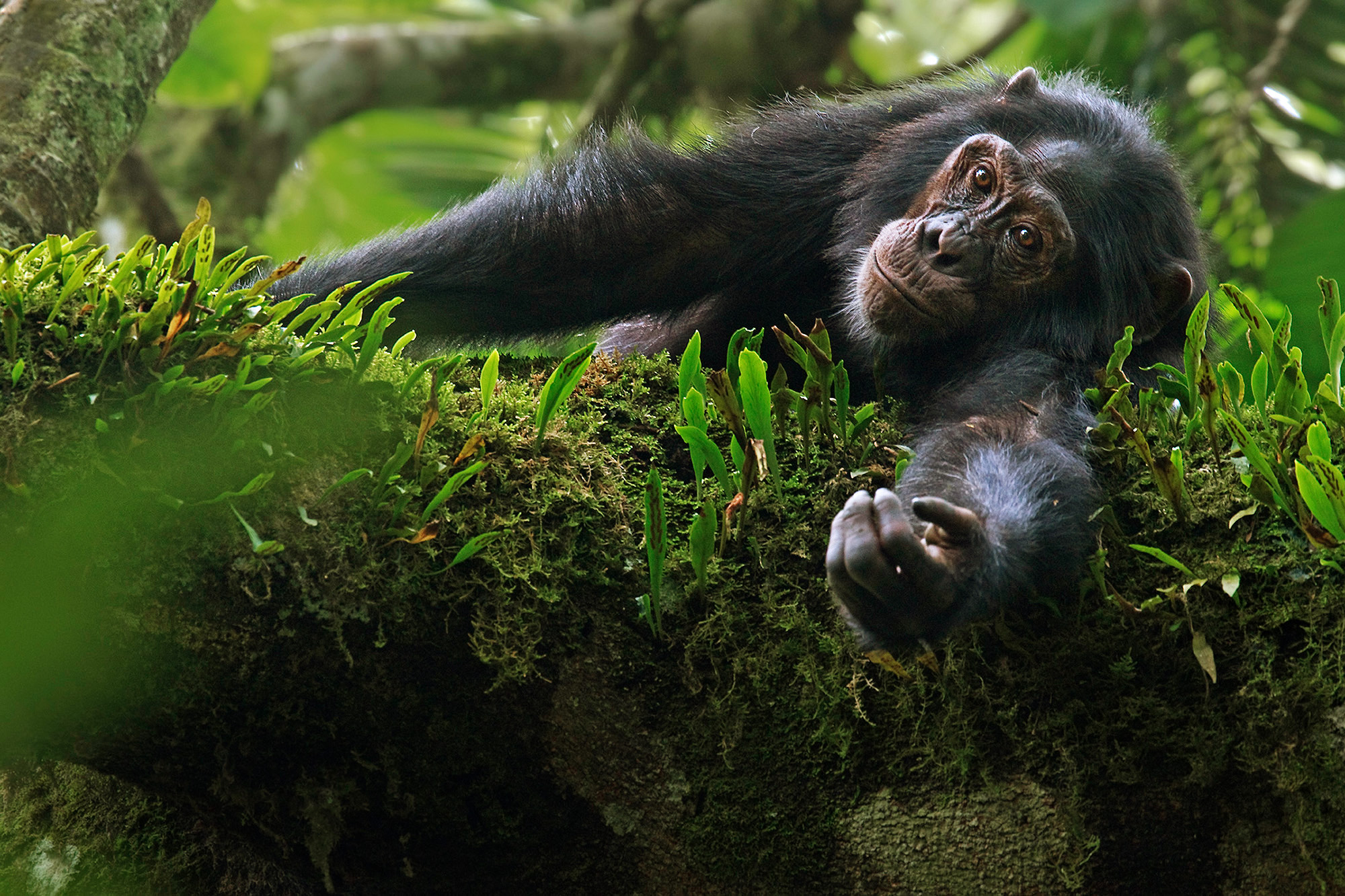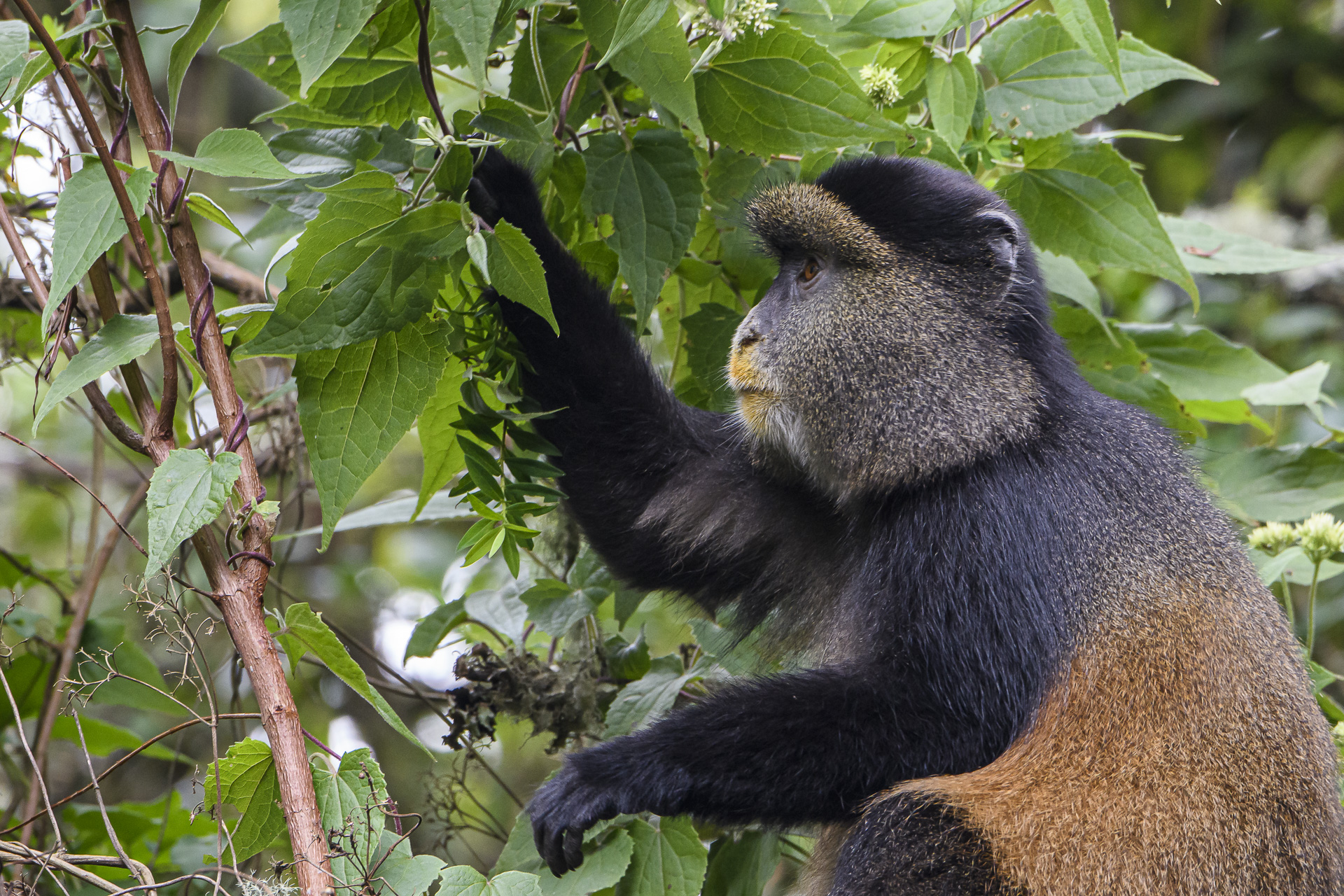 Itinerary
Day 1 (11/2) (Dinner)
Arrival at Entebbe airport during the day. We will transfer to our hotel in Entebbe. Optional nature walk in Entebbe Botanical Gardens if time allows.
Day 2 (12/2) (Breakfast – Lunch – Dinner)
After breakfast will we leave Entebbe and drive to Kibale National Park and our lodge. Lunch on the way to the lodge. After check-in and some rest, we have a briefing about the tour and the day ends with dinner.
Day 3 (13/2) (Breakfast – Lunch – Dinner)
Today, our primate experience really begins. After breakfast we head to the Bigodi wetland reserve to look for Eastern black and white colubus (Colobus guereza), Grey-cheeked mangabey (Lophocebus albigena) and Red-tailed monkey (Cercopithecus ascanius). If we have some luck, we will get to see and be able to photograph also Red colobus (Piliocolobus tephrosceles) and Mountain monkeyor L'Hoest's monkey (Allochrocebus lhoesti) as it also called.
We will also keep an eye out for birds when we hike in the area, here we have good opportunities to find the Great blue turacos.
We will spend the morning and afternoon in the reserve.
Day 4 (14/2) (Breakfast – Lunch – Dinner)
Today will we spend in the jungle with the chimpanzees. We start the day early to find the chimpanzees before they leave their night nests. We will follow the chimpanzees for about 4 hours and to get really close to them we participate in their everyday life. We will return to our lodge first thing in the afternoon / evening.
Day 5 (15/2) (Breakfast – Lunch – Dinner)
If you have chosen to go on a second Chimpanzee trek the day will be as yesterday. Early start and then you head out in to the jungle to spend time with the chimps.
Those who haven't booked a second visit to the Chimpanzees will do shorter treks in the vicinity to look for birds and other animals and landscapes to photograph.
Day 6 (16/2) (Breakfast – Lunch – Dinner)
Today is a transport day to Mgahinga National Park. We leave after breakfast and travel along the slope of Rwenzori and through the rolling hills at Kigezi. We have lunch along the way and surely we will find some nice photo stops along the way. We arrive at our lodge in the evening.
Day 7 (17/2) (Breakfast – Lunch – Dinner)
Today we will start our hikes in the jungle in the Virunga Mountains and look for primates. First out is the Golden monkey. We have an early breakfast and bring packed lunches. After we have registered in the national park's office, we head out into the jungle to look for the Golden monkeys. The search for the monkeys can take from one hour to up to four hours depending on where they are located, but expect that we are out pretty much all day. Mgahinga National Park is part of the Virunga Massif, which stretches across the three countries of Uganda, Rwanda and Congo-Kinshasa.
Day 8 (18/2) (Breakfast – Lunch – Dinner)
Today is the day with a capital G, our gorilla hike is on the agenda. We have an early breakfast and then we go to Mgahinga National Park. After the usual paperwork, our search for the mountain gorillas begins. Just like yesterday, it is difficult to say exactly what the day looks like as it depends on where the gorillas are, but when we find them, we will spend an hour with them.
Day 9 (19/2)  (Breakfast – Lunch – Dinner)
For those who booked a second gorilla trek today will look just like yesterday, we spend the day visiting the mountain gorillas in Mgahinga National Park. Expect a full day out in the jungle and an experience you will never forget.
Those who haven't booked a second visit to the gorillas will do shorter treks in the vicinity to look for birds and other animals and landscapes to photograph.
Day 10 (20/2)  (Breakfast – Lunch)
Today ends our journey, if you have chosen not to join us on our extension to Mabamba wetland. After an early breakfast we head towards Entebbe and the airport. Flight home in the evening.
Mer information
PHOTO EQUIPMENT

Uganda offers many different types of motifs, ranging from landscapes to mammals and birds, making it convenient to carry everything from wide-angle lenses to telephoto lenses. For shooting mountain gorillas and other primates, lenses from 24mm to 500mm are excellent depending on the type of photos you want to take.

If you have access to two camera bodies, it is good to have these with slightly different focal lengths. Tripods can be difficult to use quickly and efficiently in the jungle. When you are on a trek in the jungle for Gorillas, Chimpanzees or Golden monkeys, it is recommended that you hire a porter for your camera backpack. The national parks have a system with very reliable porters and I guarantee that it is nice to not have to carry the backpack when going uphill.

CLOTHING
The climate in Uganda is tropical, which means that both days and nights are warm, often the temperature rises above 30 degrees during the day and rarely below 20 at night. However, the nights are colder the days we are at higher altitudes in the mountains so then you need some thick sweater in the morning. Pack light and cool but durable clothes. A thinner rain jacket or poncho is good to bring. Bring a cap or thin hat as protection from the sun. Hiking boots or a pair of heavier sneakers are the best choice for the feet. Feel free to supplement with some form of sandals to wear in the middle of the day.

ACCOMMONDATION
We stay in hotels and lodges of medium standard.

ACCESSIBILITY
The accommodation has no restrictions regarding accessibility. The hikes in the mountains are not suitable for people with disabilities.

INCLUDED IN THE PRICE
1 gorilla permit, 1 chimpanzee permit, 1 golden monkey permit, other entries and fees in national parks, local guides, photo lessons, local transport (we travel in comfortable Toyota Landcrusiers), transfers to and from airports. Accommodation (share in a double room) and meals according to the itinerary.

NOT INCLUDED IN THE PRICE
Round-trip flights Entebbe, permit for a second visit to the gorillas and chimpanzees, tips, insurance, cancellation protection, visas, drinks, meals not specified in the daily program, telephone, internet fees and things of a personal nature.

SECOND PERMIT TO VISIT THE GORILLAS AND CHIMPANZEES
If you want to add a second visit to the gorillas and/or chimpanzees, this must be done well in advance of the trip, preferably in connection with the booking. This is because the number of permits is strongly limited.

The cost of the permits is: Chimpanzees – USD 150, Gorillas – USD 700. Permits are paid at the time of final payment and at the exchange rate of the day.
MEETING POINT
The tour starts and ends at Entebbe International Airport.
The tour guide meets and leaves the group here.

TERMS OF PAYMENT
The registration fee is paid via invoice in connection with registration. The remaining amount is paid no later than 60 days before the tour. Payment will be in Swedish crowns (SEK). Amount in Euro and US dollars mentioned above are just reference amounts.

VISA AND PASSPORT
Your passport must be valid for at least six months after arrival in Uganda. For Swedish citizens, a visa to Uganda is required, read more about visas here. Passports are required at check-in for flights.

If you are a citizen of any other country please check with the nearest Ugandan Embassy if you need visa or not.

INSURANCE
We strongly recommend that you carefully review your travel insurance before the tour. Read the terms and conditions about what may and may not be included. It is important to check that compensation is included for travel home / ambulance transport in the event of an accident or serious illness. Often, for example, the travel cover in a regular home insurance needs to be supplemented.

HEALTH AND VACCINATIONS

Contact your doctor for advice on vaccinations. For entry into Uganda, you must be vaccinated against Yellow Fever.

Some of the treks, to the Golden monkeys and Mountain gorillas can be strenuous.

THE GROUP AND LANGUAGE
Our tours are open to all nationalities, which means that the group can be international.
The tour guides on our trips speak Swedish and English.